After our stroll through the Arsenale we moved to the calm and shady Giardini, where the Central Pavilion and major Participating Countries pavilions are found by the calm waters of the Laguna. Here we find the two introductory chapters of this travel to discover our human identity trough ART: the Pavilion of Artists and Books and the Pavilion of Joys and Fears.
The Pavilion of Artists and Books is conceived as an artist studio rather than a pavilion. The studio is a place where creativity merges with dialogue, in fact the first installation you encounter in the Central Pavilion is an actual studio where artists have been working during the whole duration of this years 57th Biennale Arte Venezia. The second pavilion, the Pavilion of Joys and Fears feels more vague and less consistent: a group of very nice and interesting pieces of art that despite its beauty lack cohesion as a group. Joys and Fears are always unpredictable, unexpected and truly subjective, that might be the 'reason' for this swirl of unlinked creativity.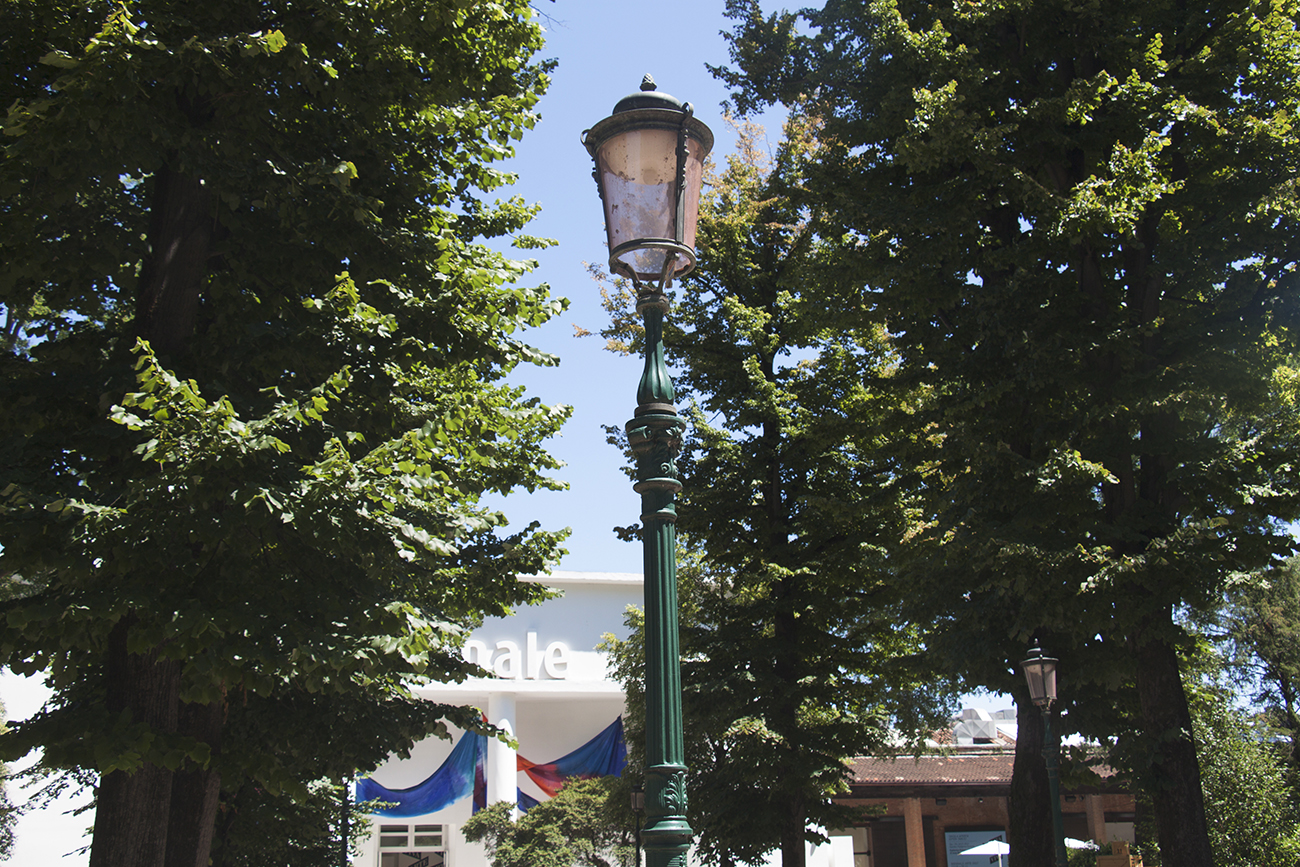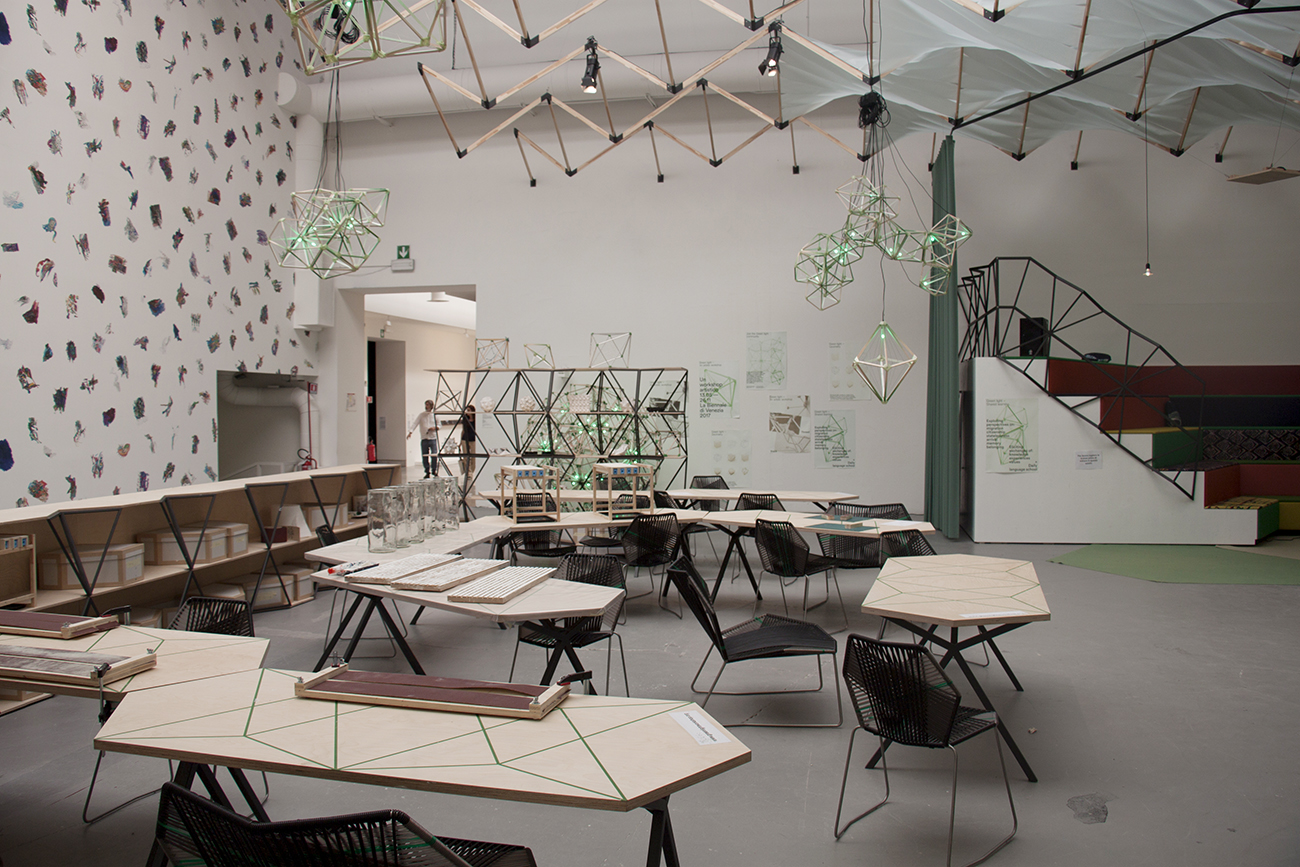 Green light Workshop
In this project, Olafur Eliasson asked refugees to volunteer their time in order to build geometric lamps from wood and green LED lights in collaboration with visitors. The lamps can be purchased in exchange of a donation that will fund legal and psychological services for the displaced. This is meant as a way to encourage collaborative work and dialogue between people from opposed social backgrounds.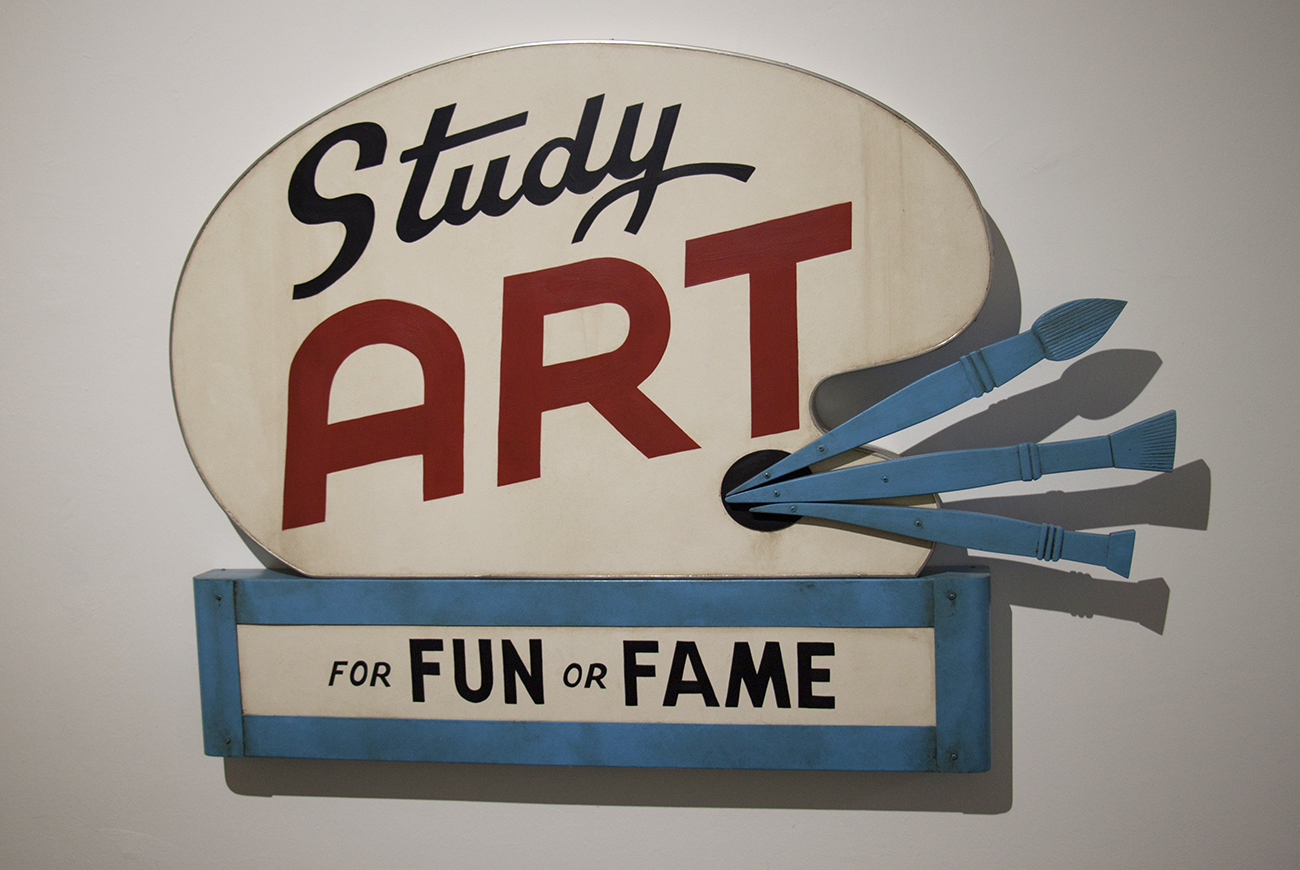 John Water – Study Art Sign (For Fun or Fame) (2007)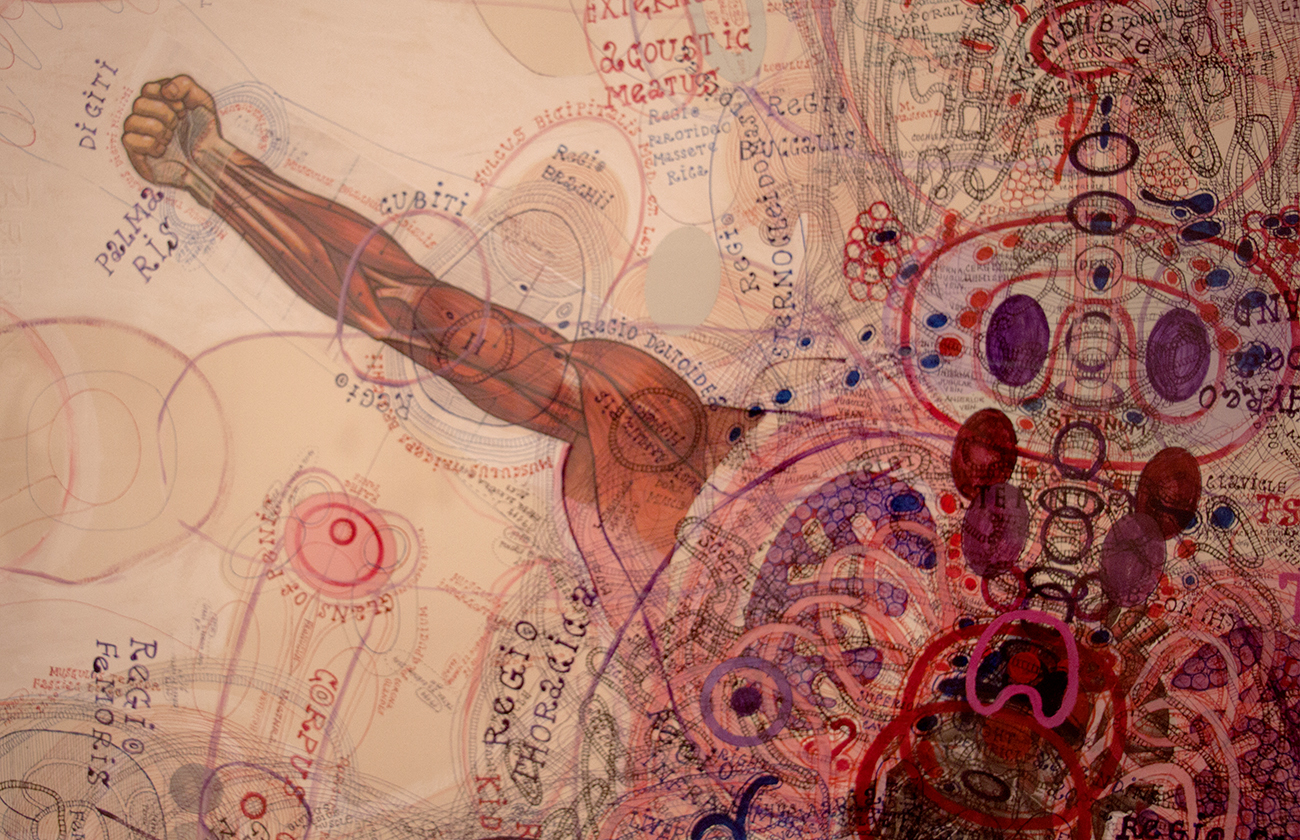 Luboš Plný – Untitled (2010, detail)
Abdullah Al Saadi – Al Saadi's Diaries (2016)
Since 1986 Abdullah has kept a diary in diverse formats and containing his projects, sketches, impressions, aphorisms and meditations. In 2016, inspired by the story of the Dead Sea Scrolls, he started writing in rolls that were kept in customized metal boxes. In 1947 a group of two thousand years old manuscript rolls (named the Dead Sea Scrolls) were found preserved in jars inside a mountain's cave: becoming a symbol of eternal memory.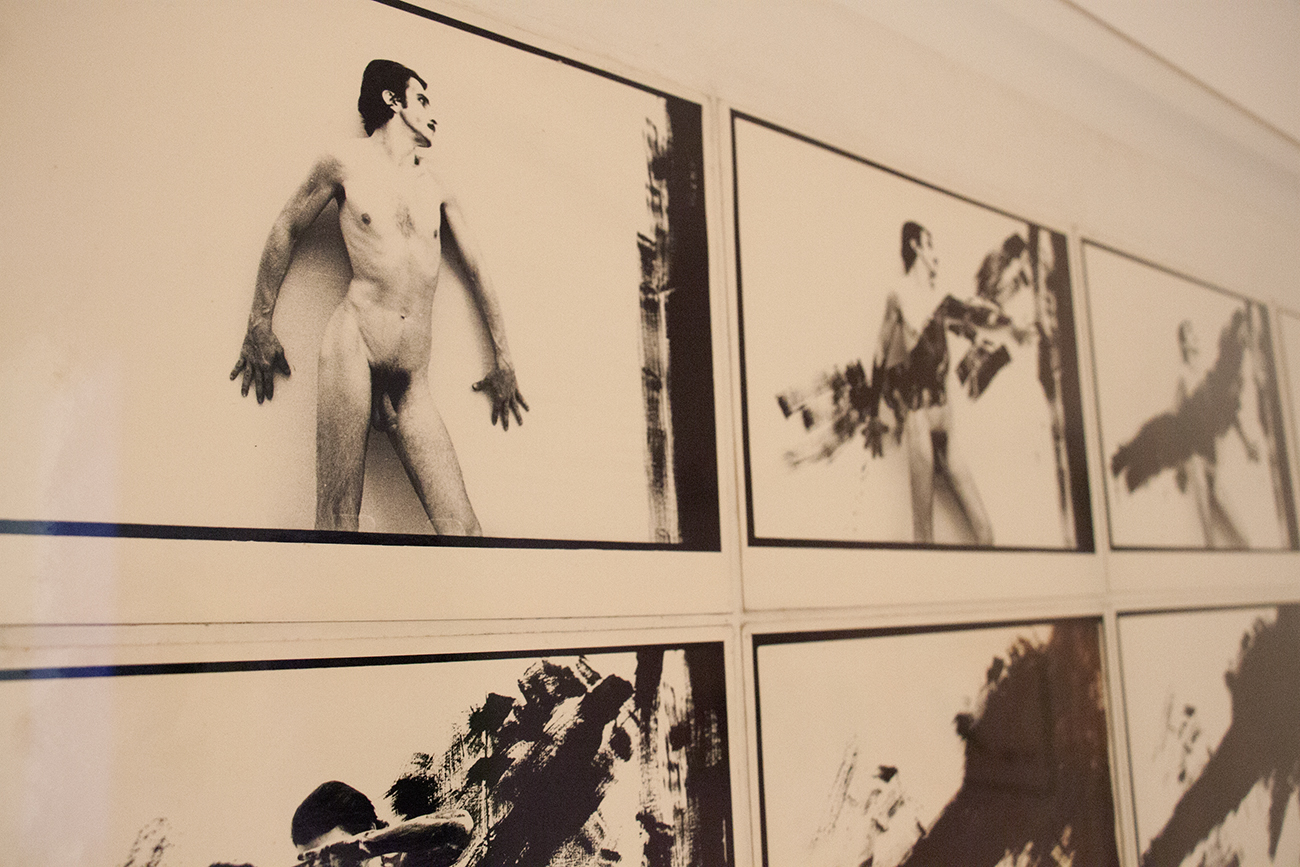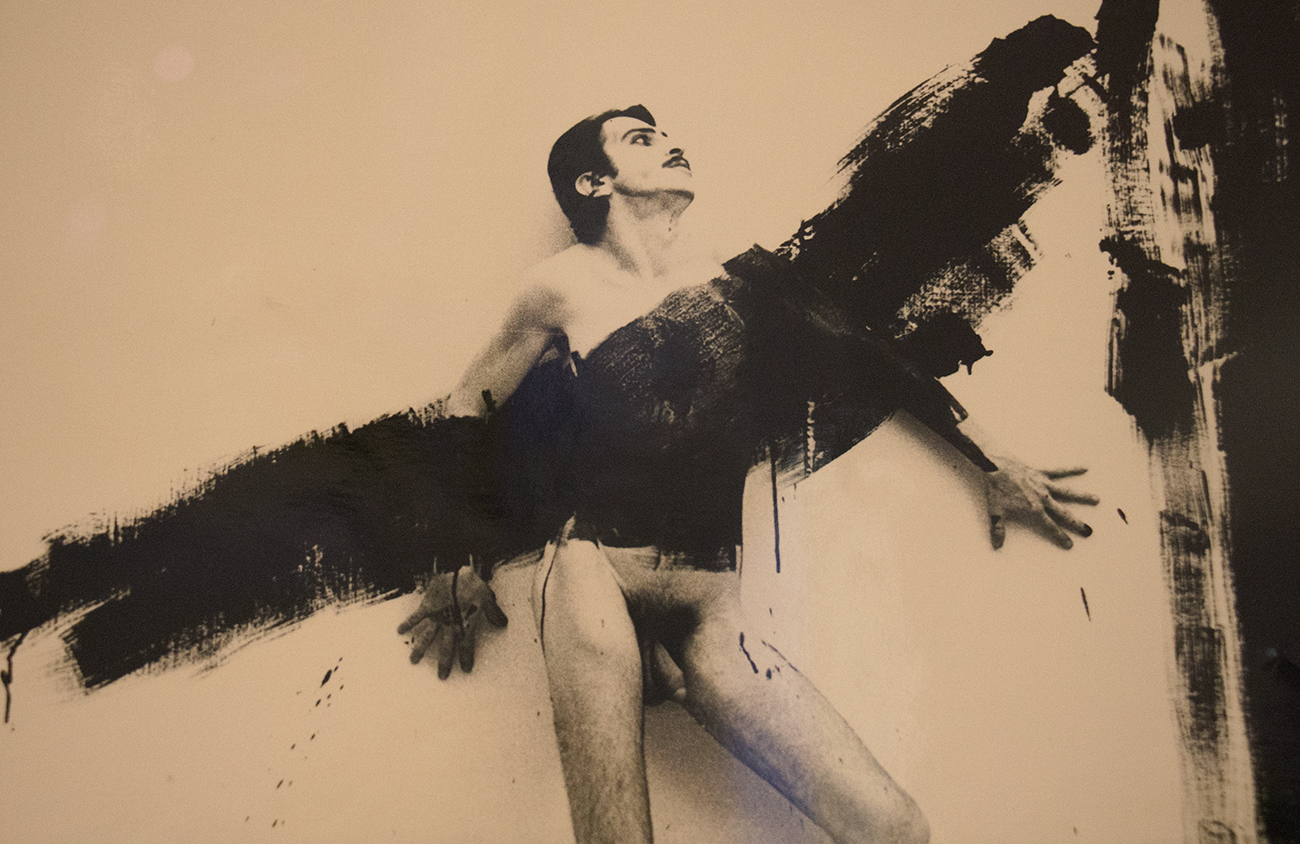 Tibor Hajas – Flesh Painting VII (1978)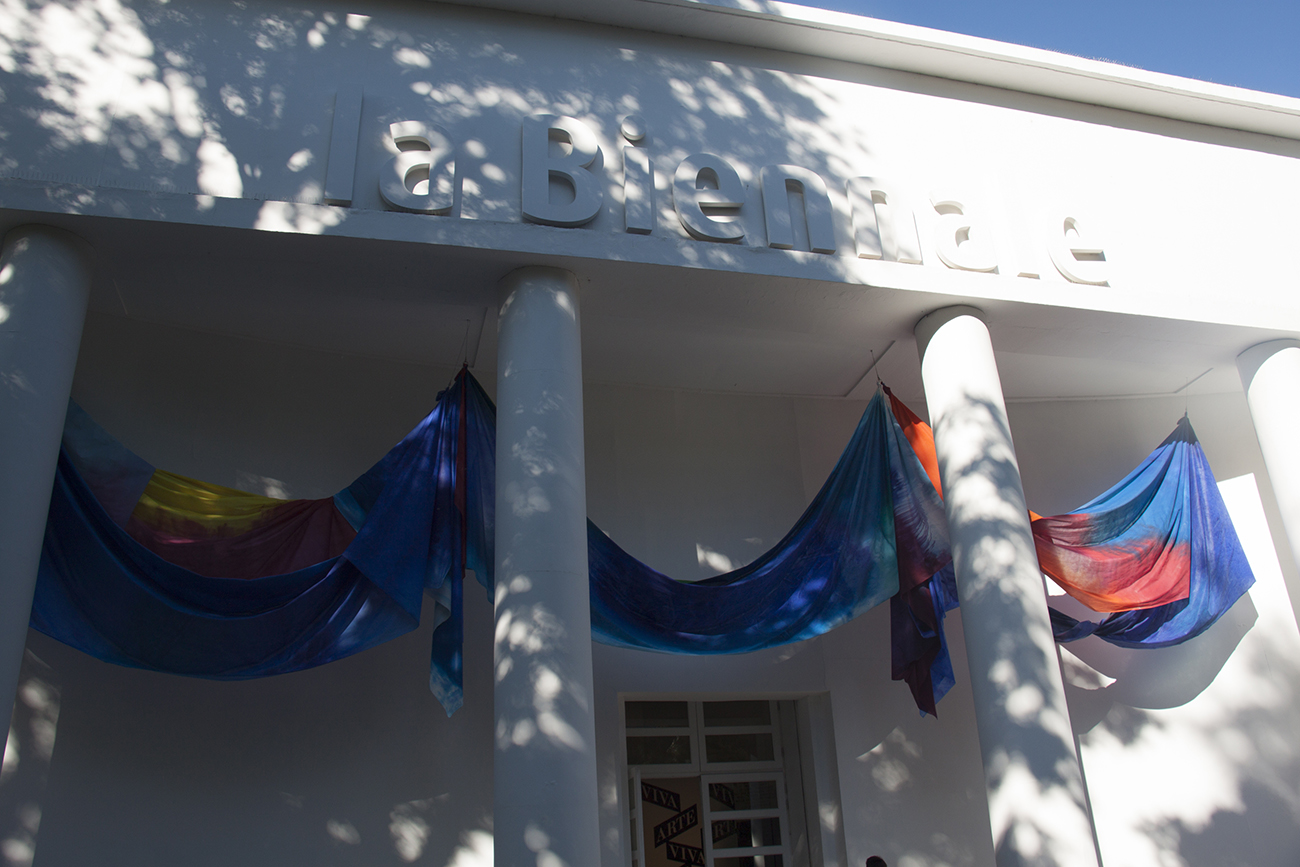 Sam Gilliam – Yves Klein Blue (2017)
This years Biennale promotes multilateral debates more than ever before. An Open Table (Tavola Aperta), has been organized bi-weekly on Fridays and Saturdays across the six months of the exhibition. In this table artists meet visitors and other artists on a casual lunch to discuss about their practice, their points of view, and the purpose of art. This and all other events are live-streamed on La Biennale's website.
Participating countries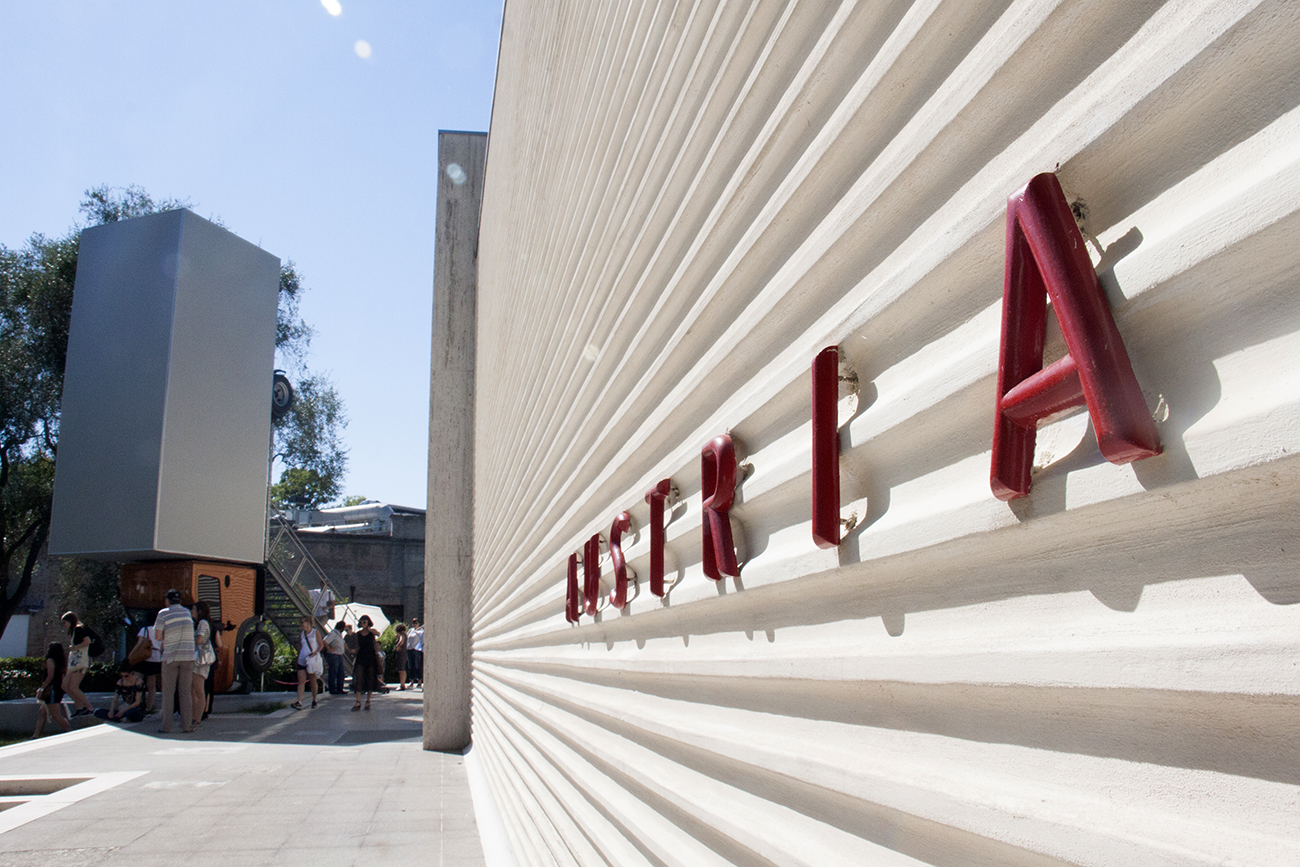 Pavilion of Austria | Erwin Wurm – Just about vices and virtues in general
Wurm's proposal for this years Austrian pavilion invites visitors to become ephemeral sculptures by interacting with day-to-day objects. As written on the main wall:  you are invited to follow the instructions and realize the One Minute Sculptures. These amusing and sometimes, absurd, creations construct an atmosphere of cheerfulness and laughter, because art is fun.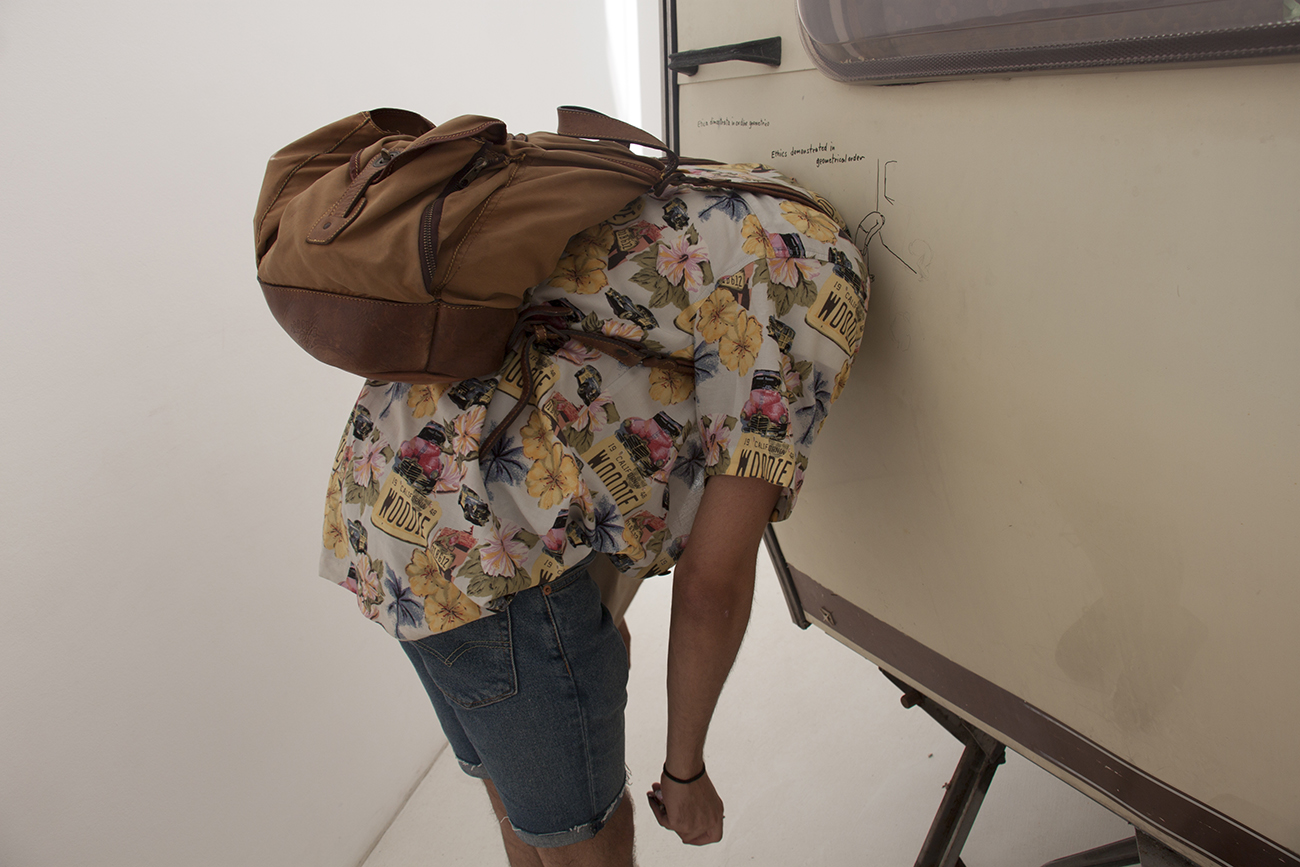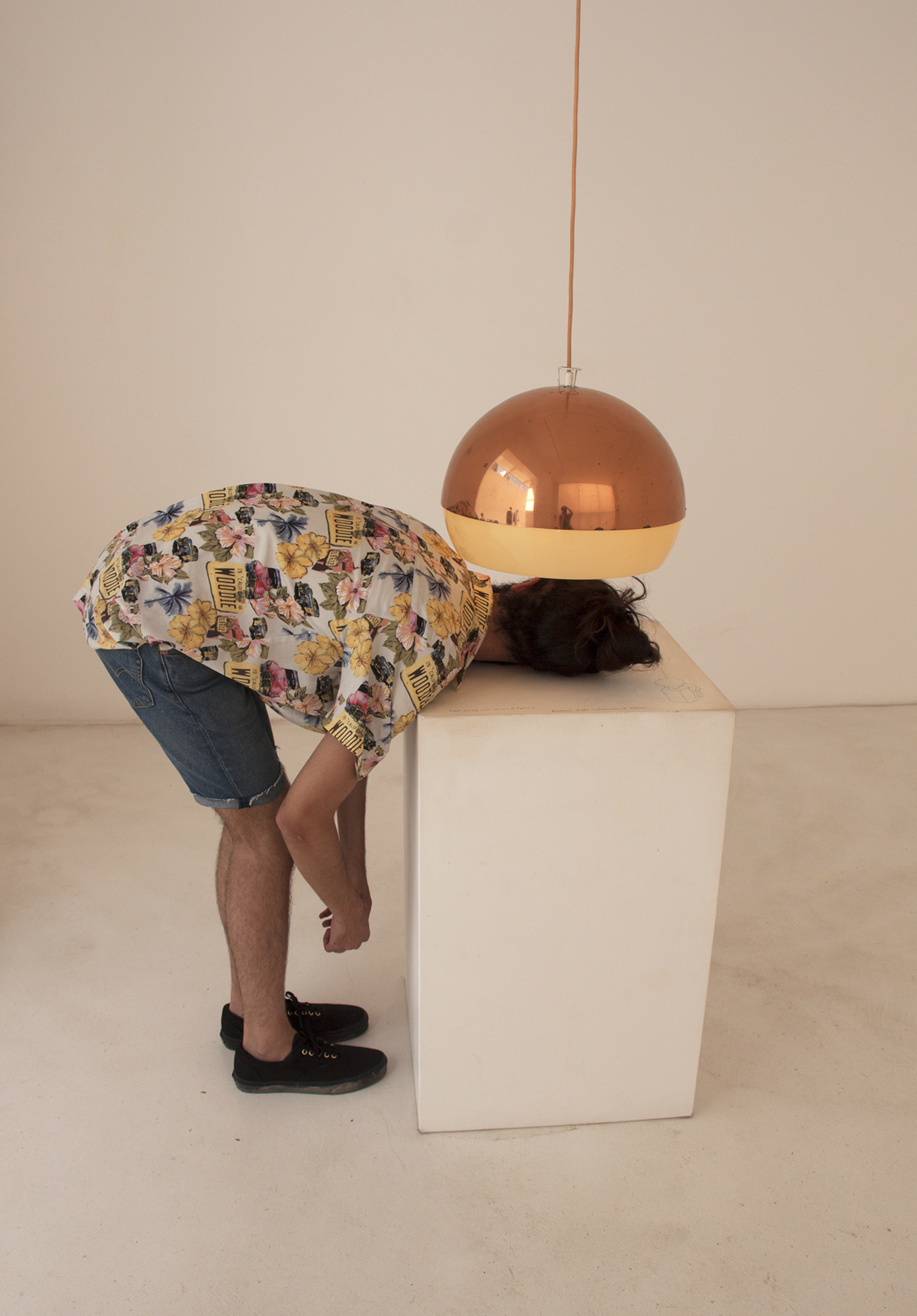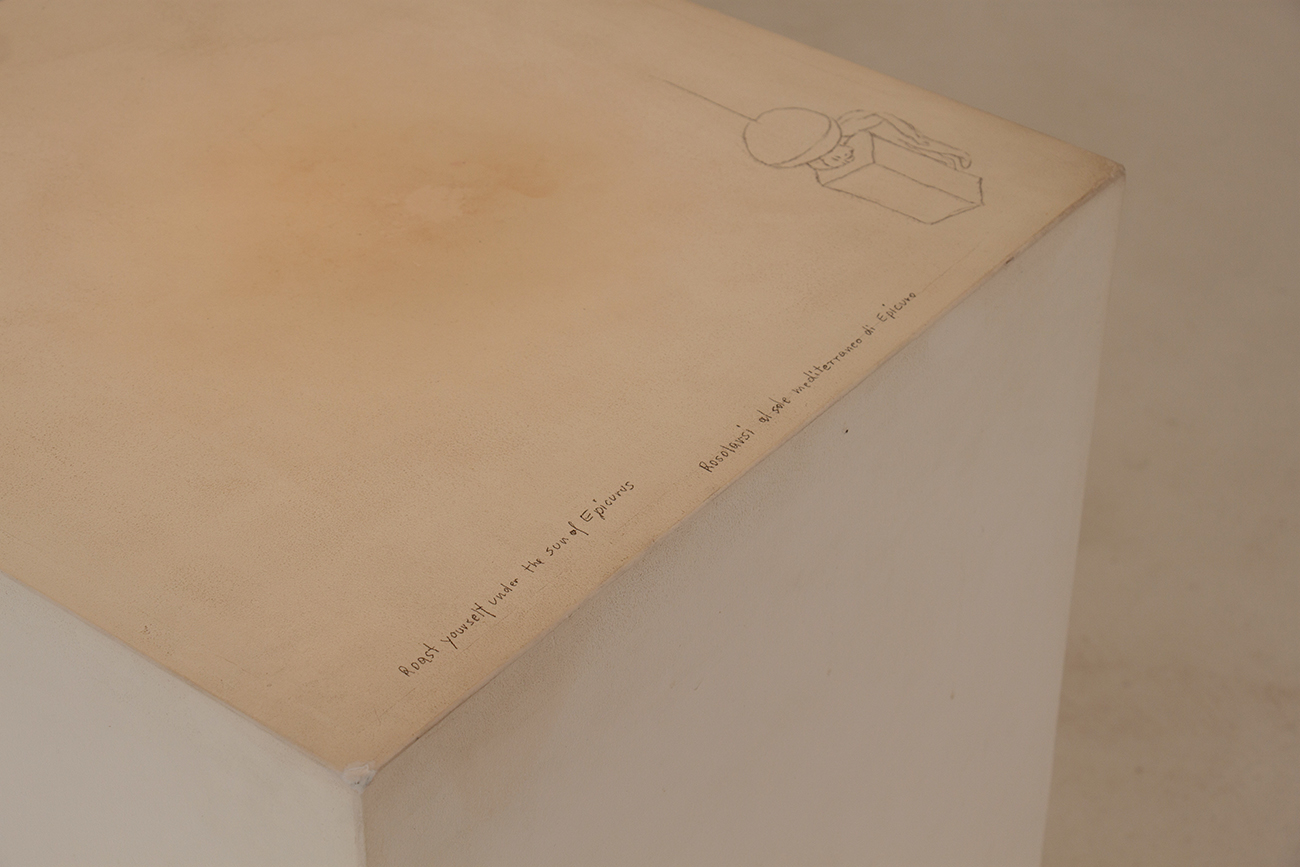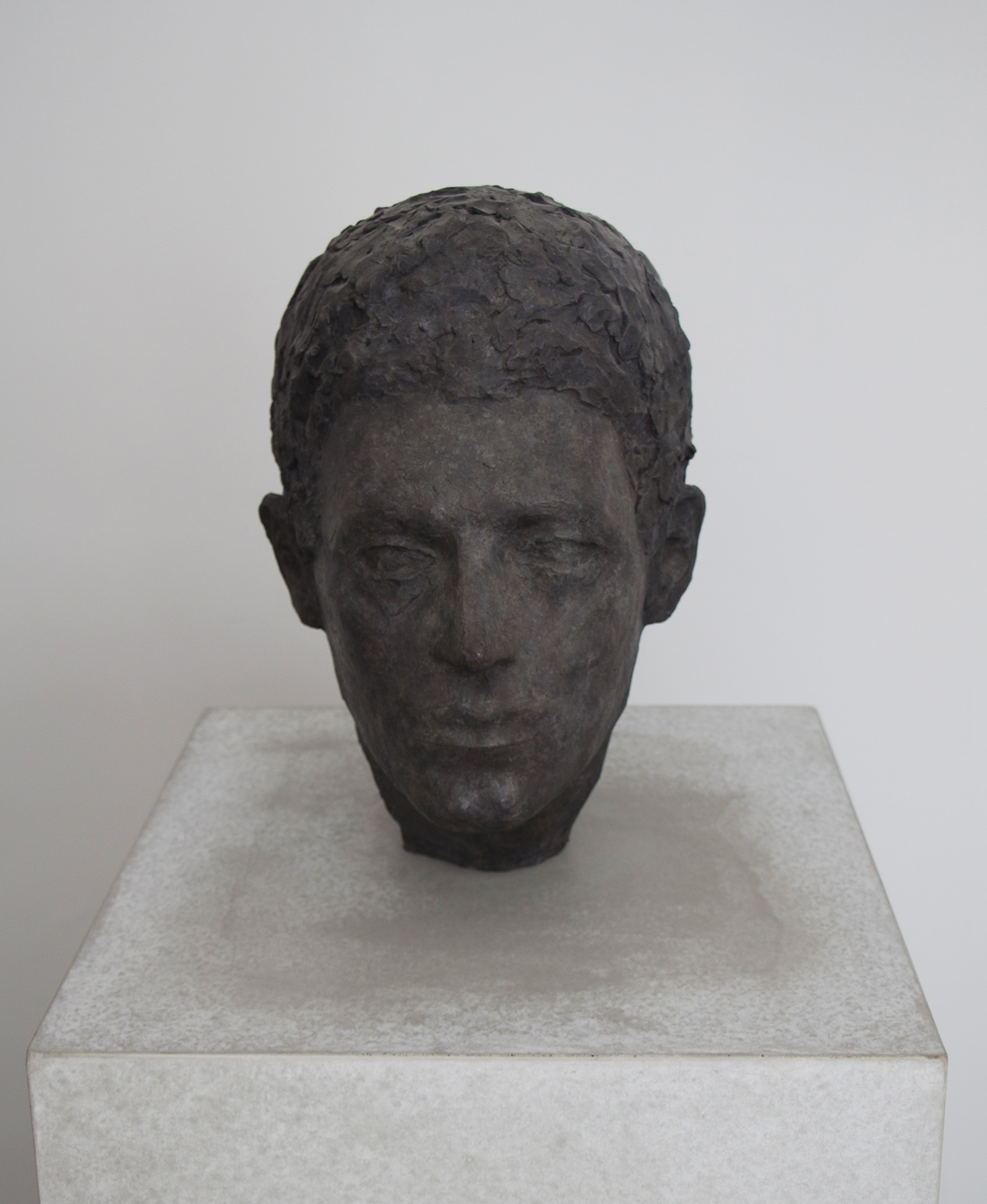 Pavilion of Switzerland |  Teresa Hubbard / Alexander Birchler – Bust (2017)
Alberto Giacometti is honored in this years Swiss project entitled Women of Venice (Femme de Venise). Although being one of the most influential Swiss artists of the 20th century, he always refused to exhibit at the Swiss pavilion (built by his brother). He argued that he considered himself as an international artist, thus no national identity could define himself. However, he did create a piece for the French pavilion in 1956: Femme de Venise, that gives name to this years exhibit. Women of Venice explores the concept of national identity and cultural policy: is art liable to borders or rules?
Teresa Hubbard and Alexander Birchler present 'Flora'. A combination of fictional and documentary material which reconstructs and re-imagines Flora Mayo's life, artist and Giacometti's lover during his time in Paris.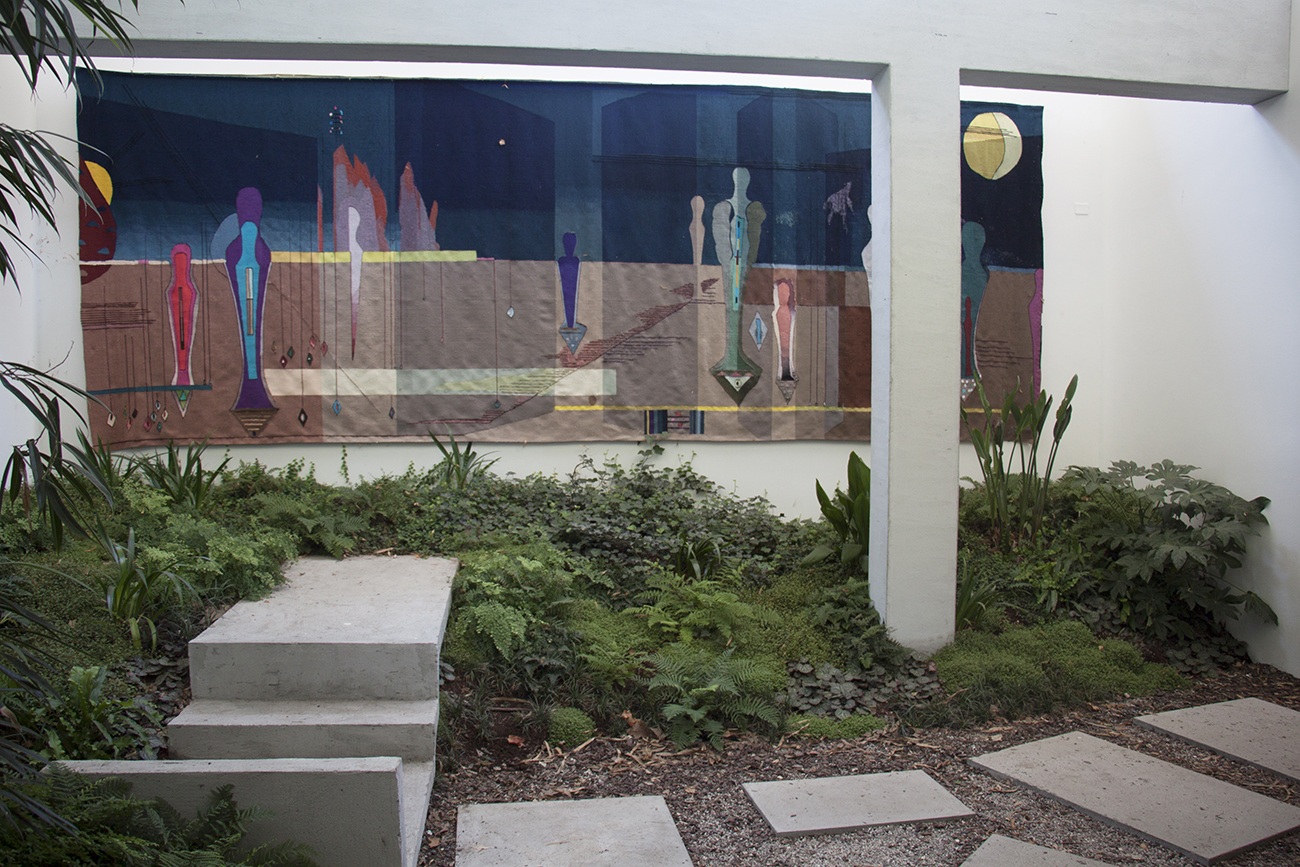 Pavilion of Denmark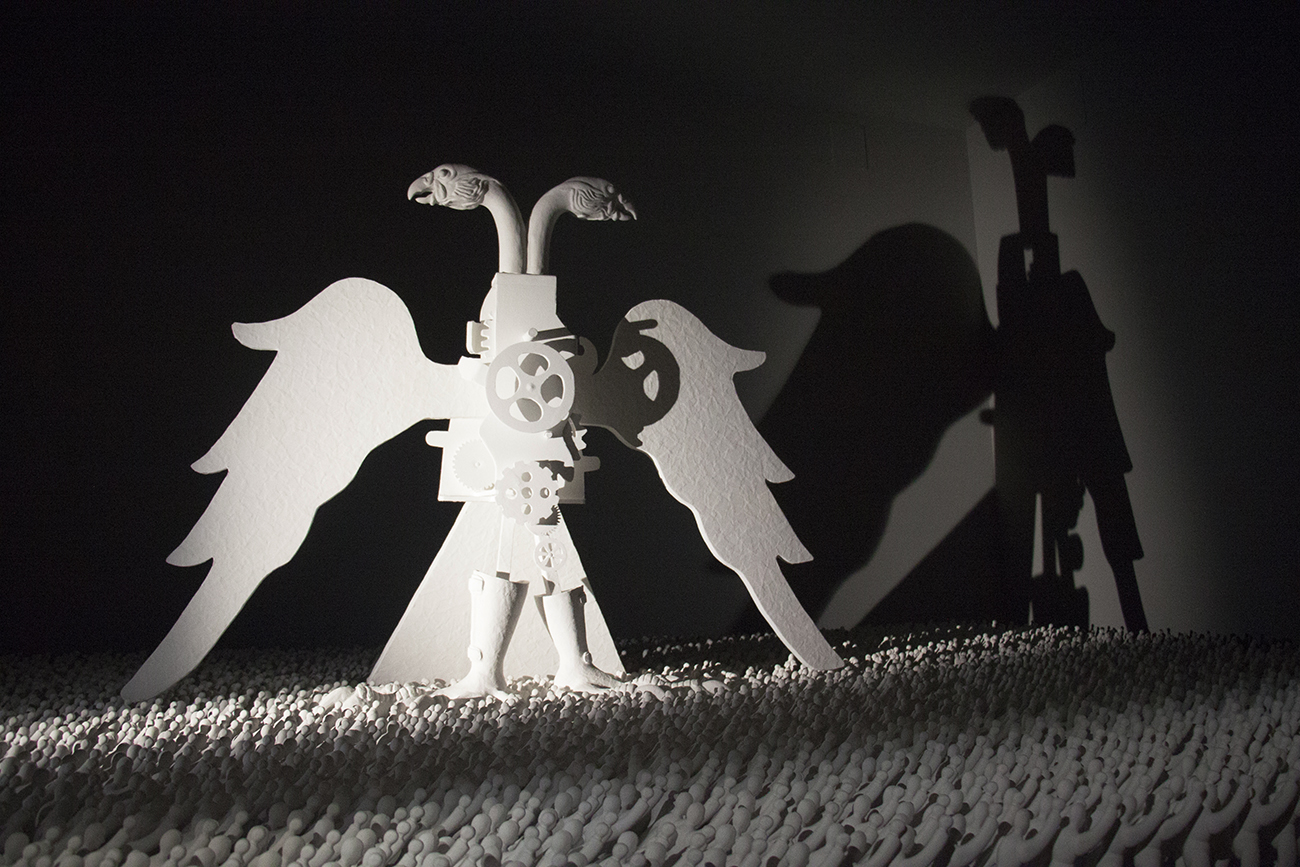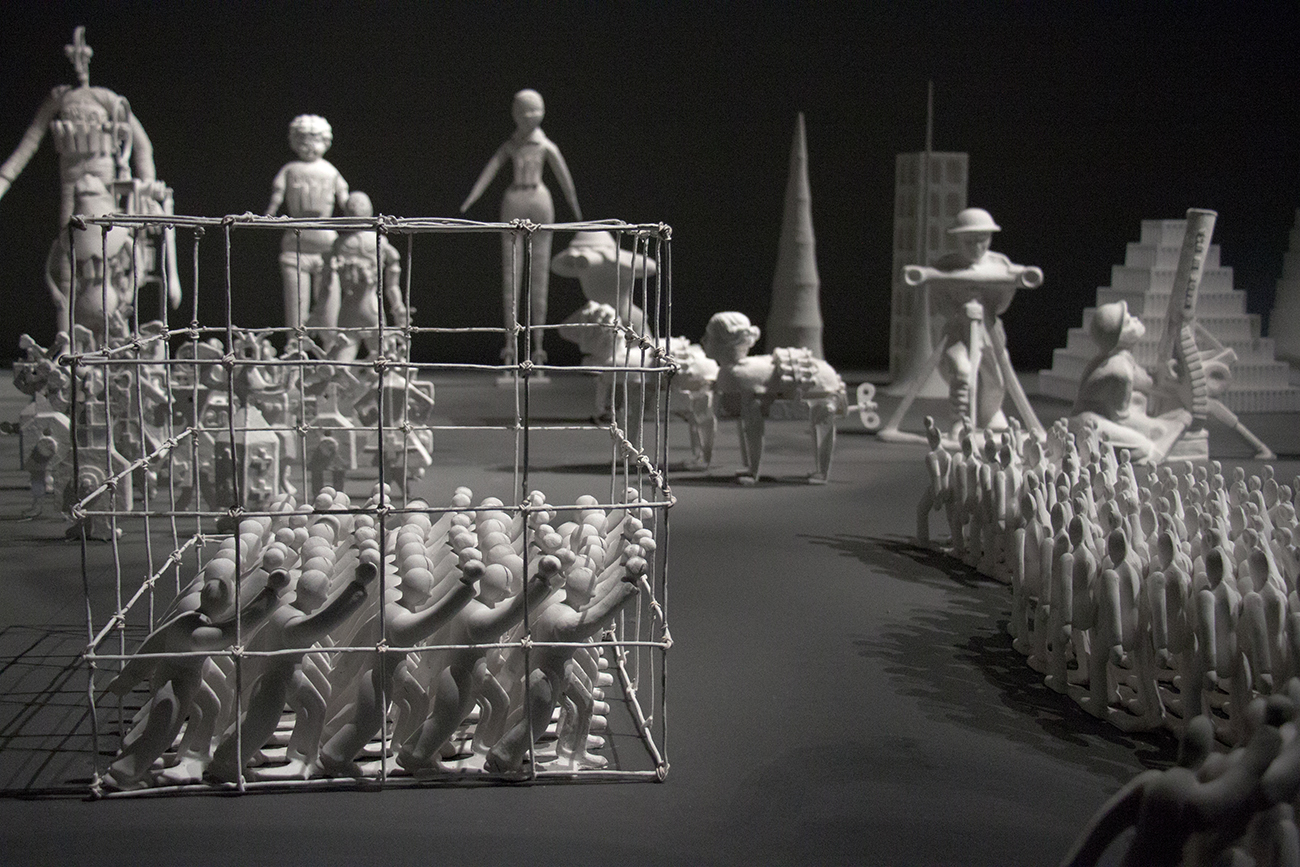 Pavilion of Russia | Theatre of the World
Grisha Bruskin – Scene Change
Scene Change is a metaphor of a new emerging world order where growing aggression, terror, the irrational life of the masses, and unprecedented control and monitoring strategies soak our contemporary lives. Through vast compositions of white figures, Bruskin represents the hegemonic power of technology and manipulation that leads masses worldwide. Masses which sometimes are caged, as we sometimes live in a miraged freedom, a mere imposed construct. Violence and devotion converge in a compendium of symbolisms and deities, both ancient and modern.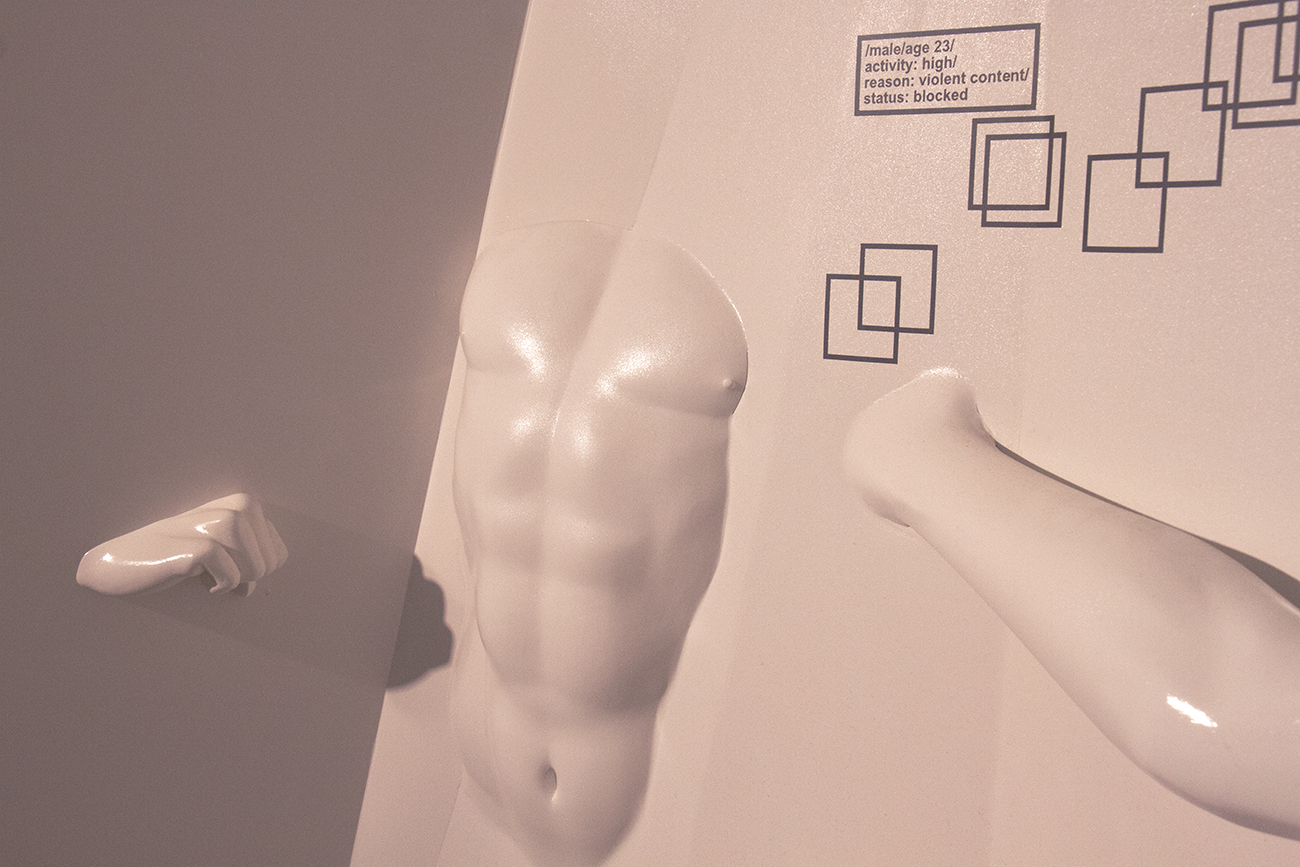 Recycle Group – Blocked Content
Featuring scenes of Dante's Hell, this installation shows censored profiles, only fully visible through a virtual reality app that can be downloaded to visitors' mobile devices.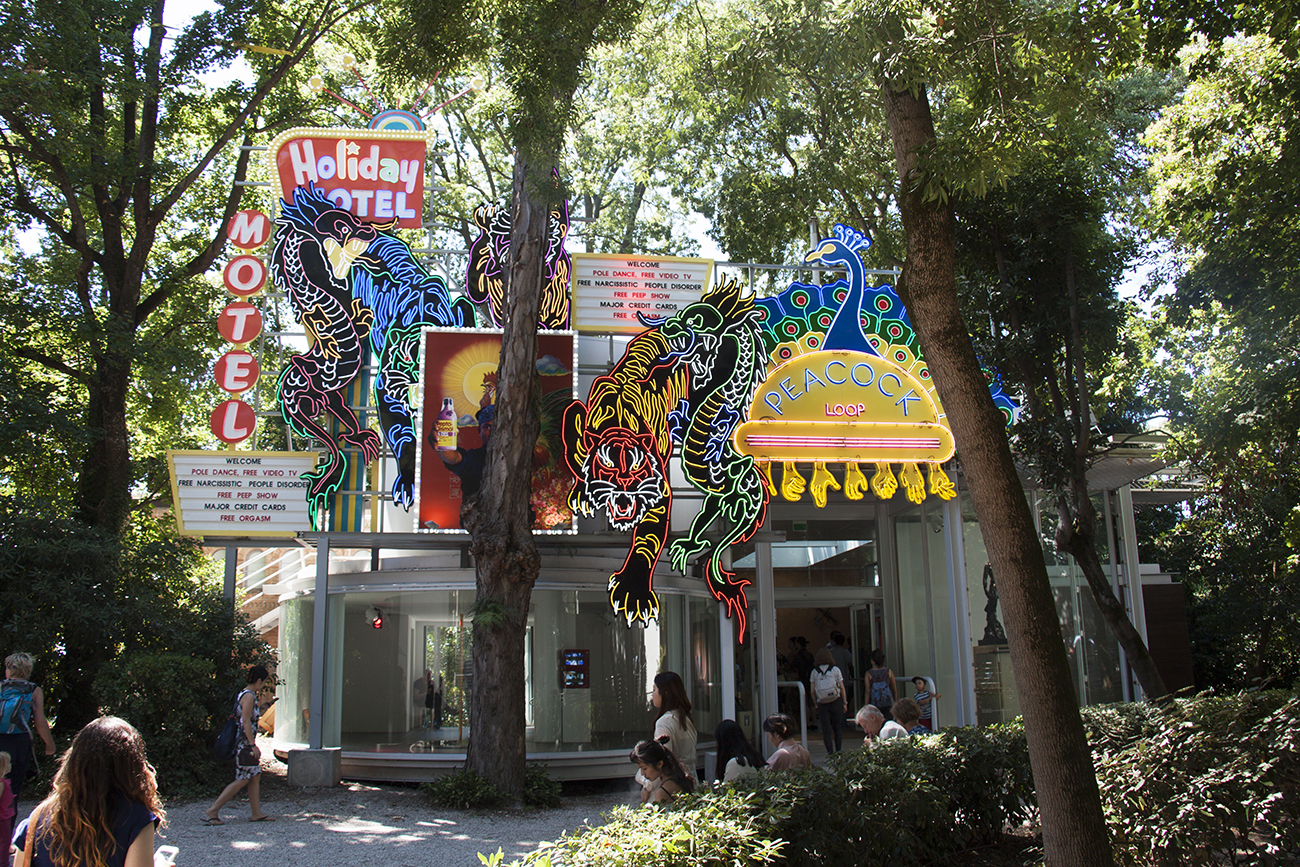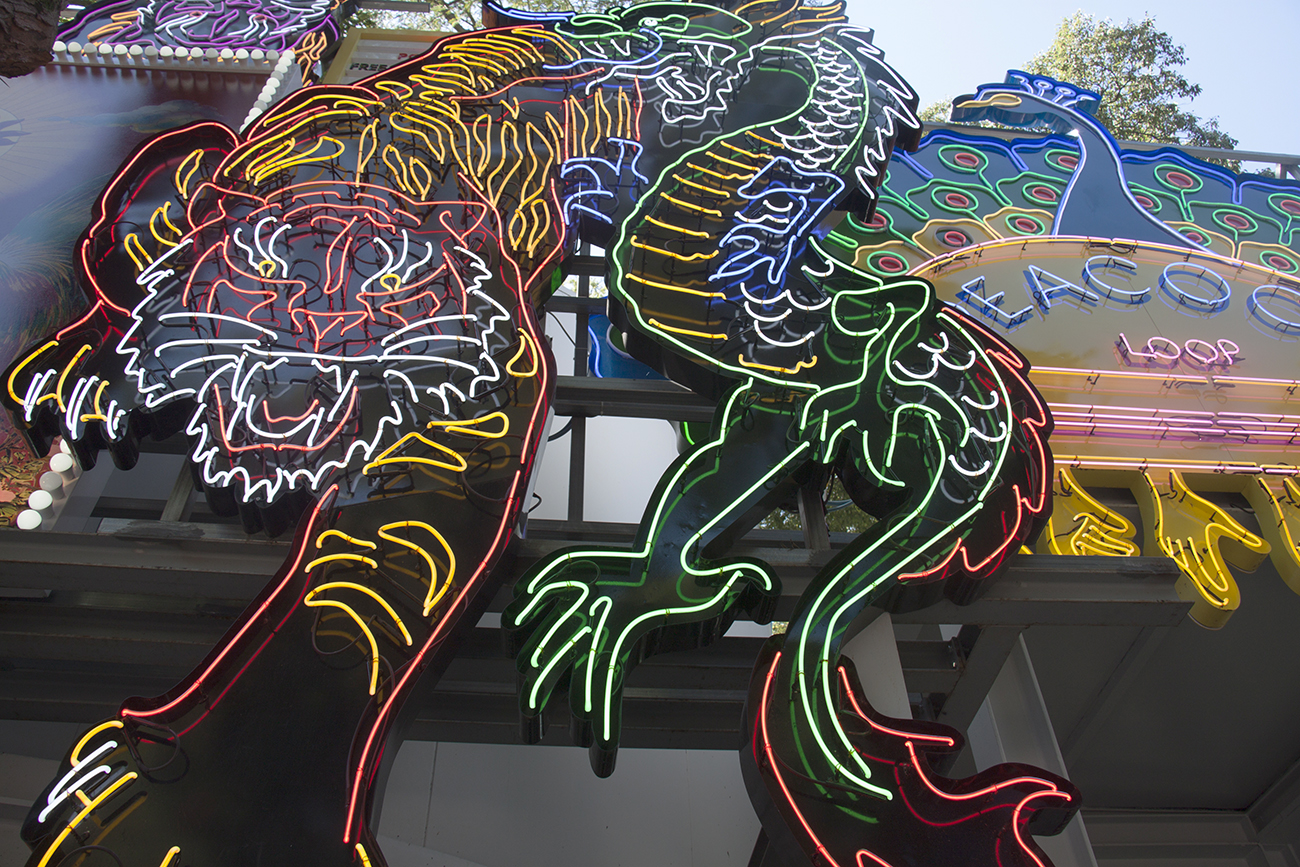 Pavilion of Republic of Korea | Cody Choi / Lee Wan – Counterbalance: The Stone and the Mountain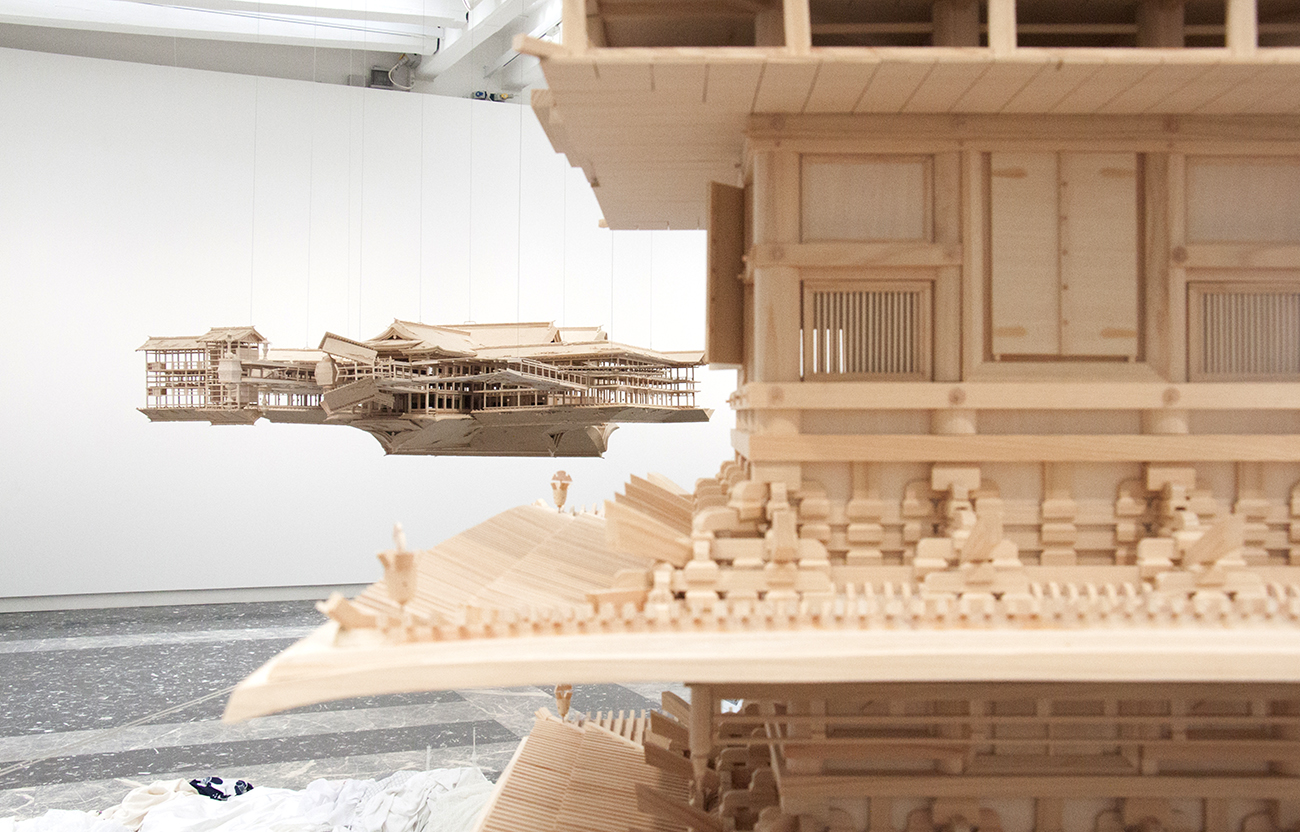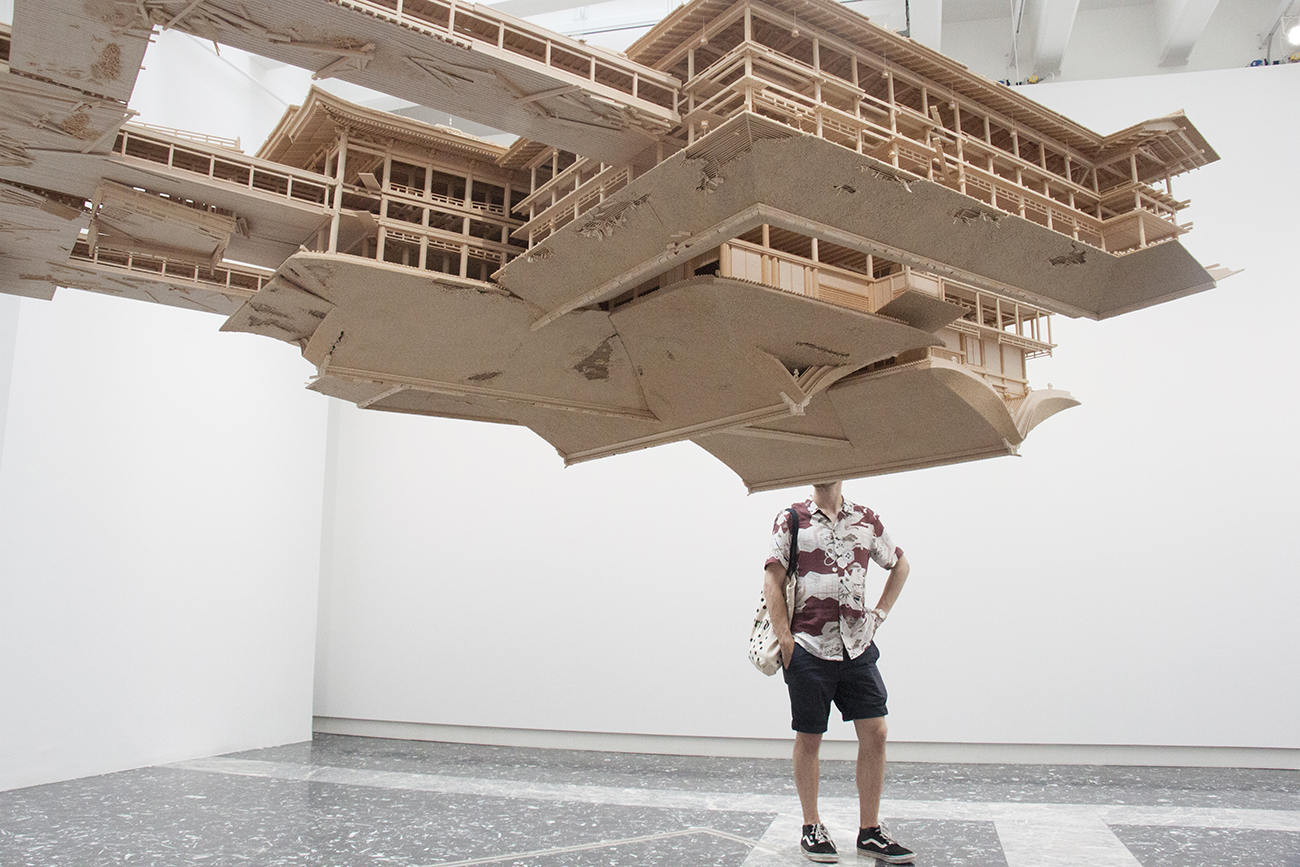 Pavilion of Japan | Takahiro Iwasaki – Turned Upside Down, It's a Forest
As always, the Japanese pavilion dazzles visitors with a dreamy installation. Quotidian objects create a mythological heaven of ancient wooden buildings floating in the sky, thread cranes on top of books as if instead of skyscrapers they were building culture, or an upside down fabric-made forest; all this is combined in the white and diaphanous space creating a mesmerizing fantasy.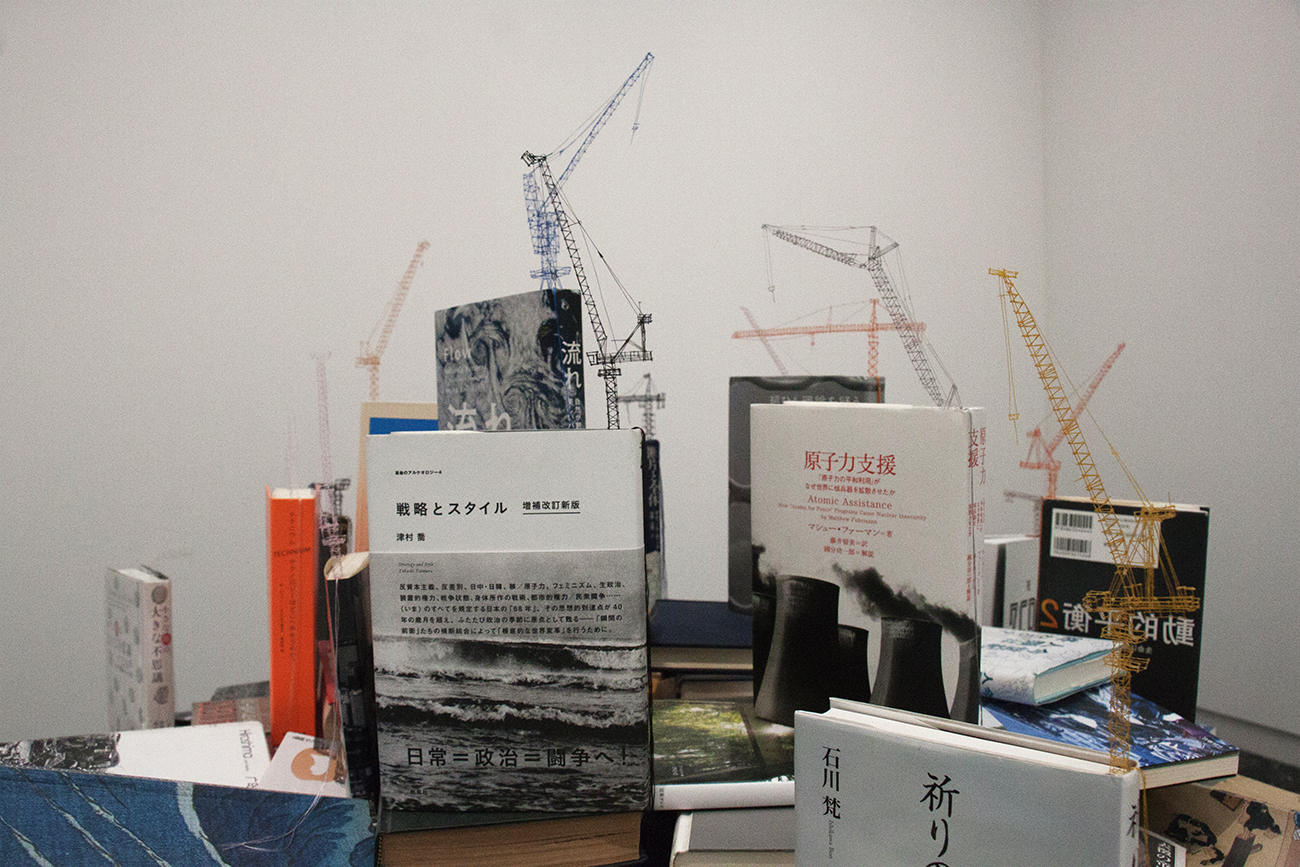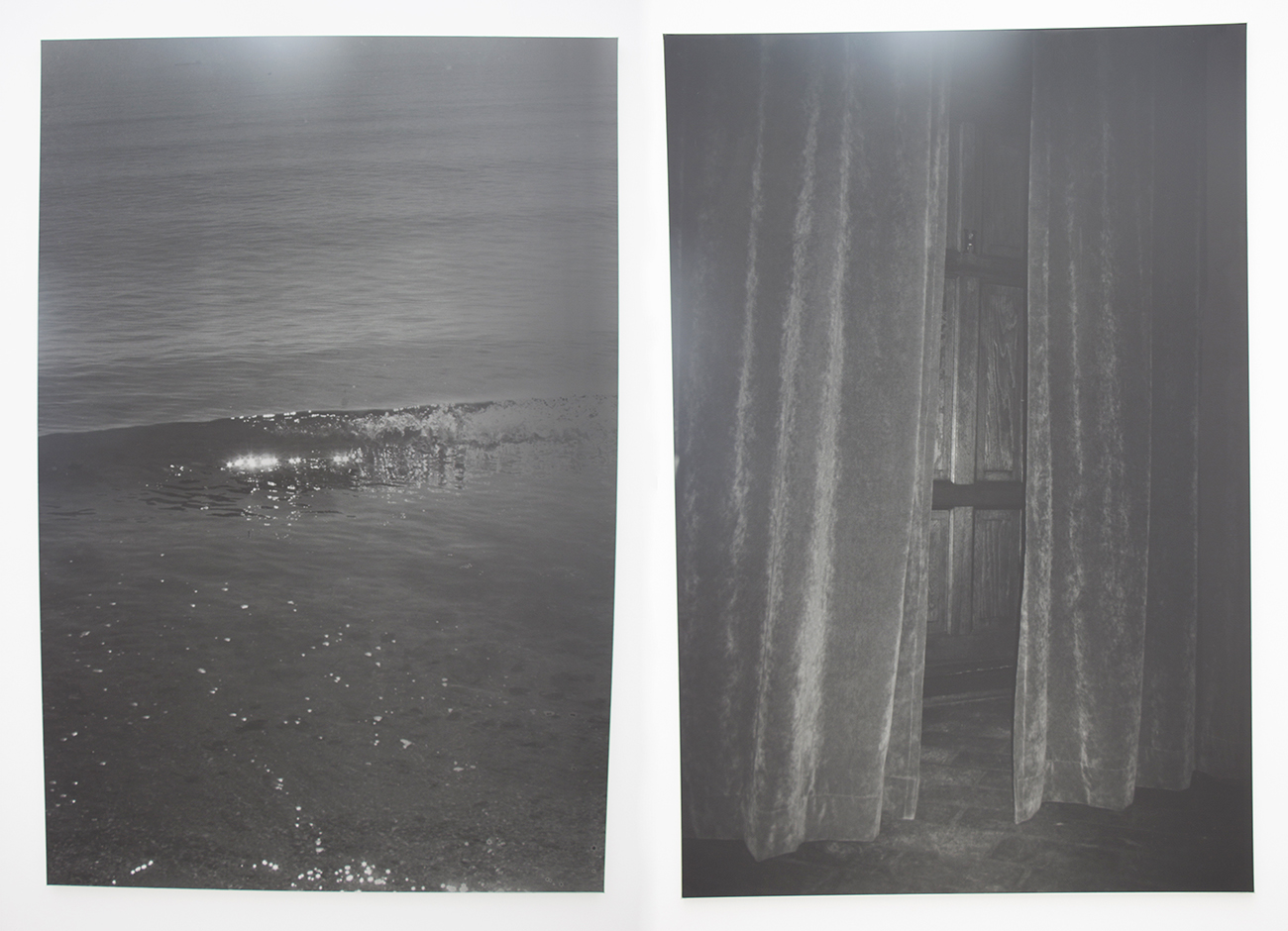 Pavilion of Belgium | Dirk Braeckman – Photographs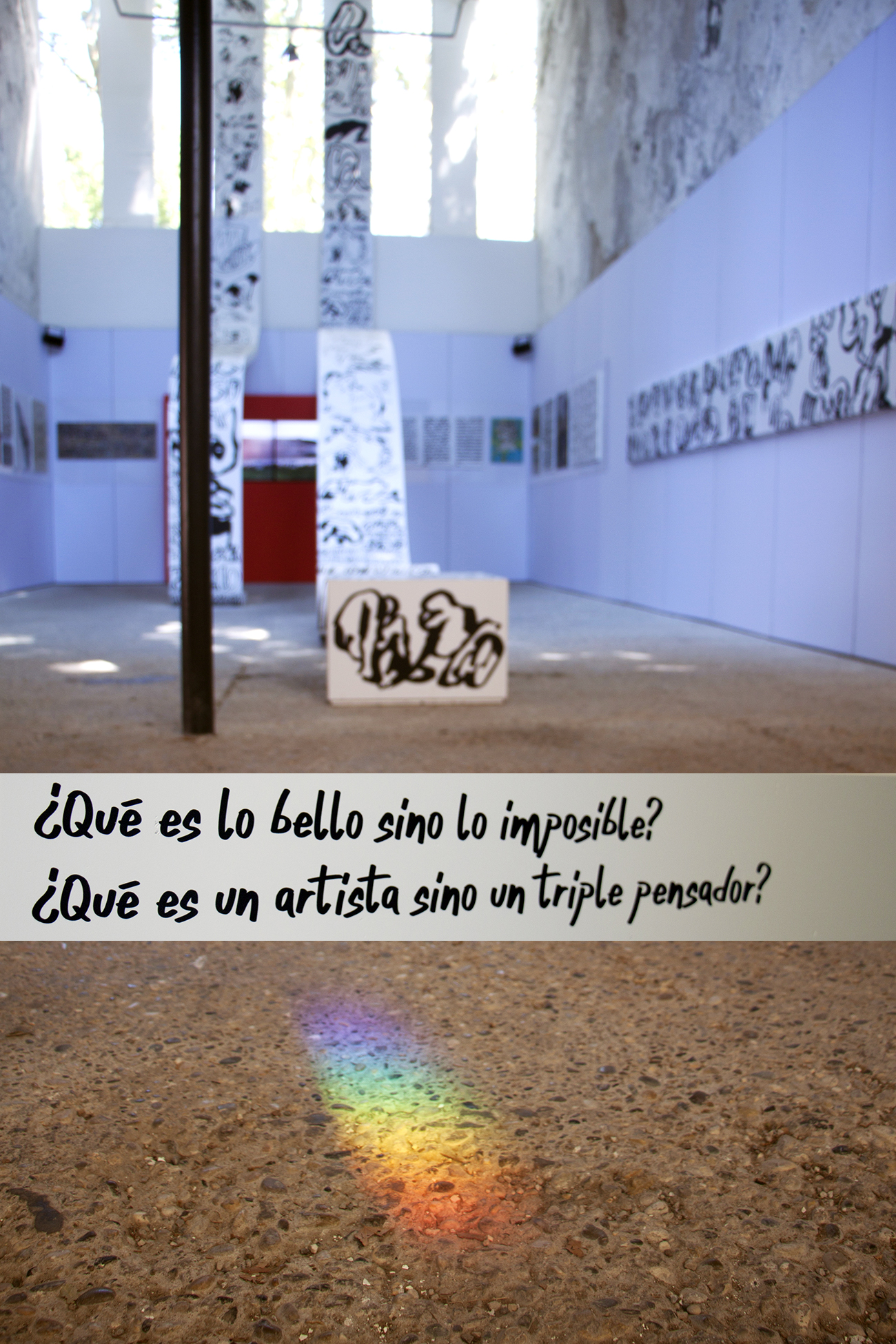 Pavilion of Venezuela | Juan Calzadilla – Formas escapándose del marco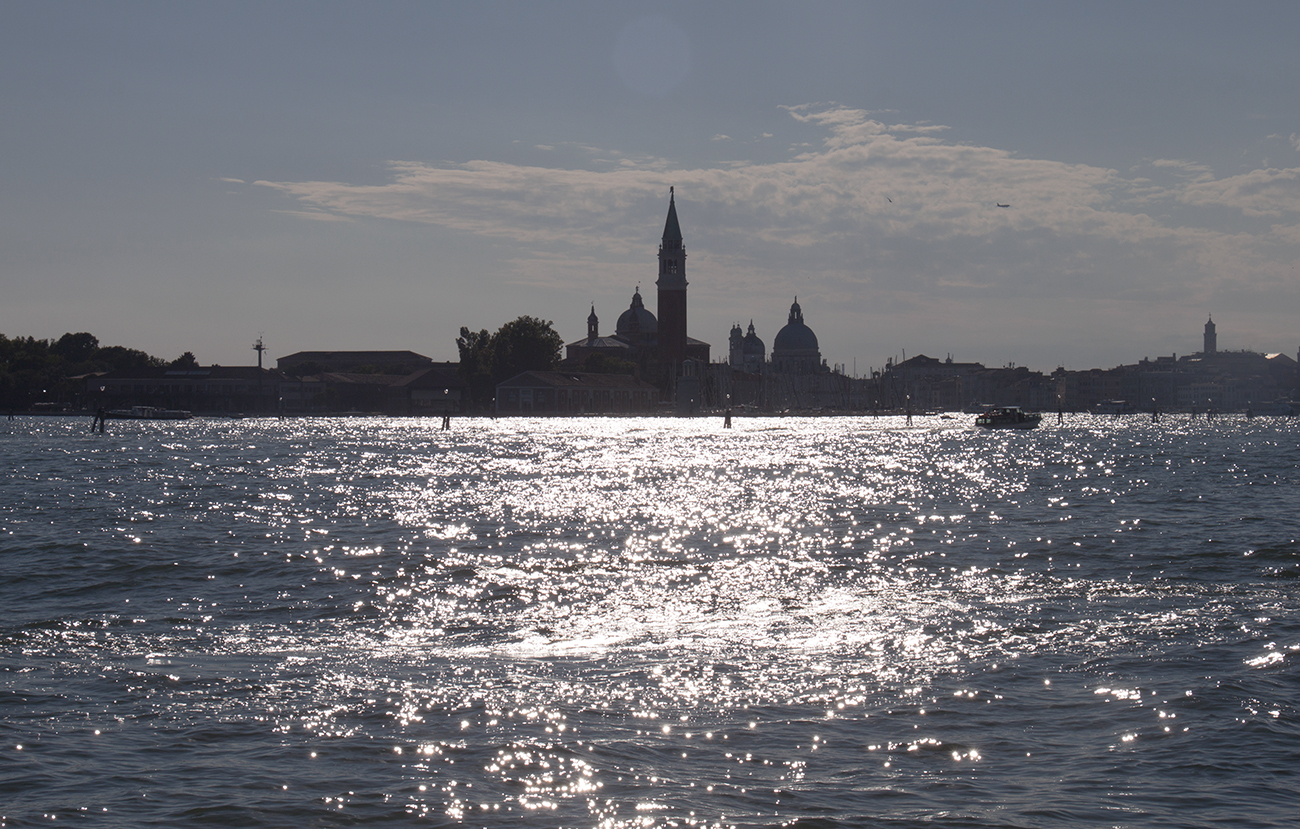 After a long and inspired day, the setting sun over this city of pinnacles bids you farewell.
Another day in Venice.
Follow our visit – Viva Arte Viva (Part I)
Photography by When Audrey Met Darcy