After a full day at the Arsenale we started our second Biennale journey to the Giardini, where we wish to live more interesting times. The laguna opens in front of us and we experience the fresh morning air in a vaporetto trip to the Castello neighborhood, enjoying the views of Punta della Dogana and San Marco.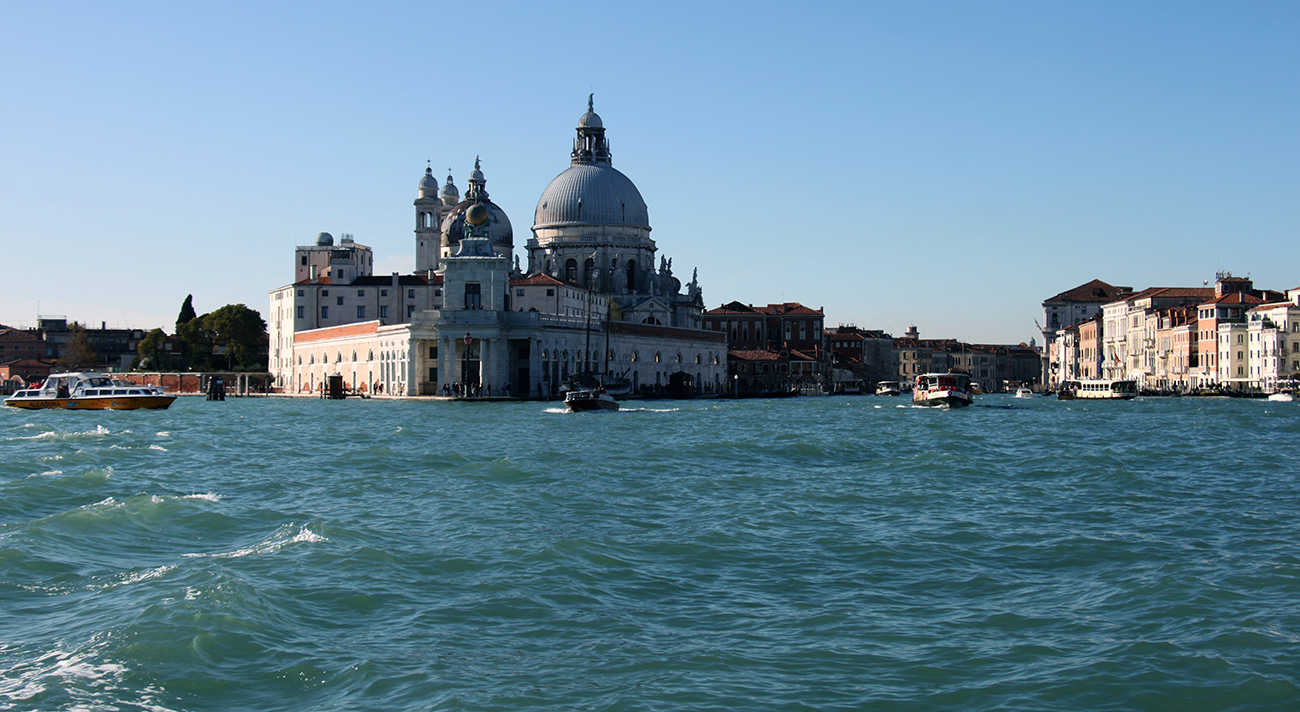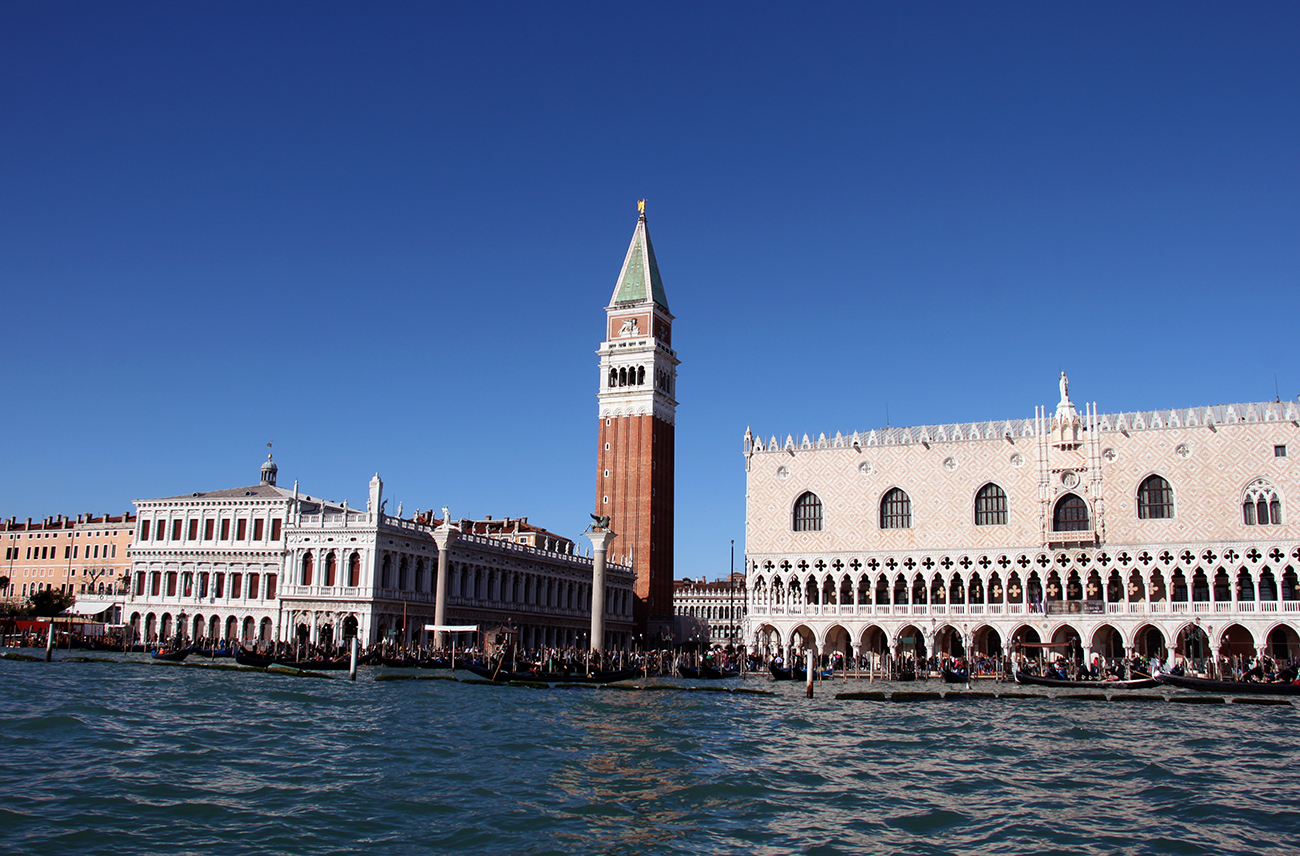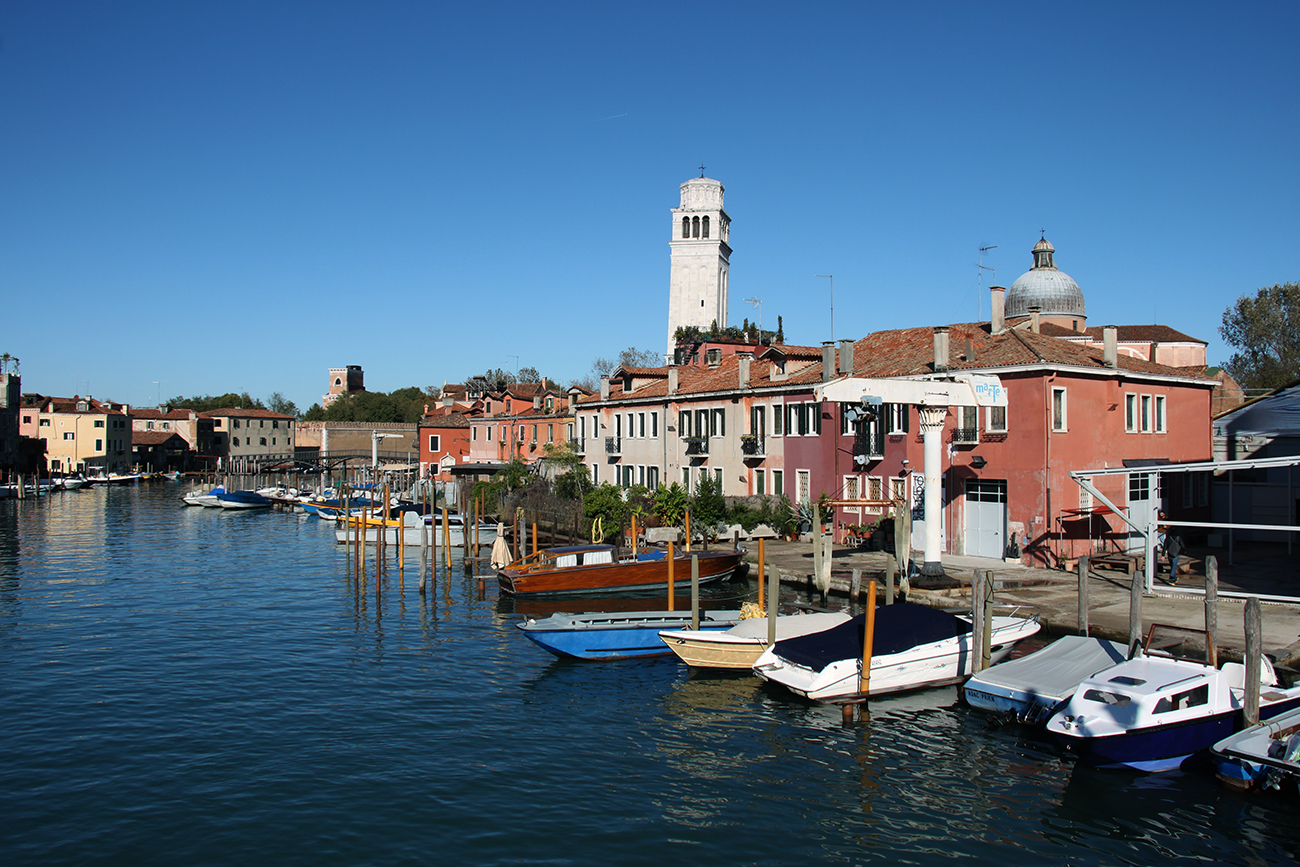 In the Castello we visit the Participation of Catalonia in Venice "To Lose Your Head (Idols)". Commissioned and produced by the Institut Ramon Llull, this years Catalan artistic proposal dealt with the effect statues infuse on society. Statues "expose" themselves to incite reverence or hatred, they confront society or incite idolatry. Their meaning and effect on population changes with ages, goverments, ideologies, … The exhibition presents the biography of a dozen public statues which have aroused passionate, visceral and ecstatic reactions.
"There was a small Virgin that he liked a lot, and suddently, before the Virgin, he became so moved that he began to say a sort of prayer, and then, without pausing a beat, he spat the Virgin and started insulting her." – Salvador Dali on Luis Buñuel, 1969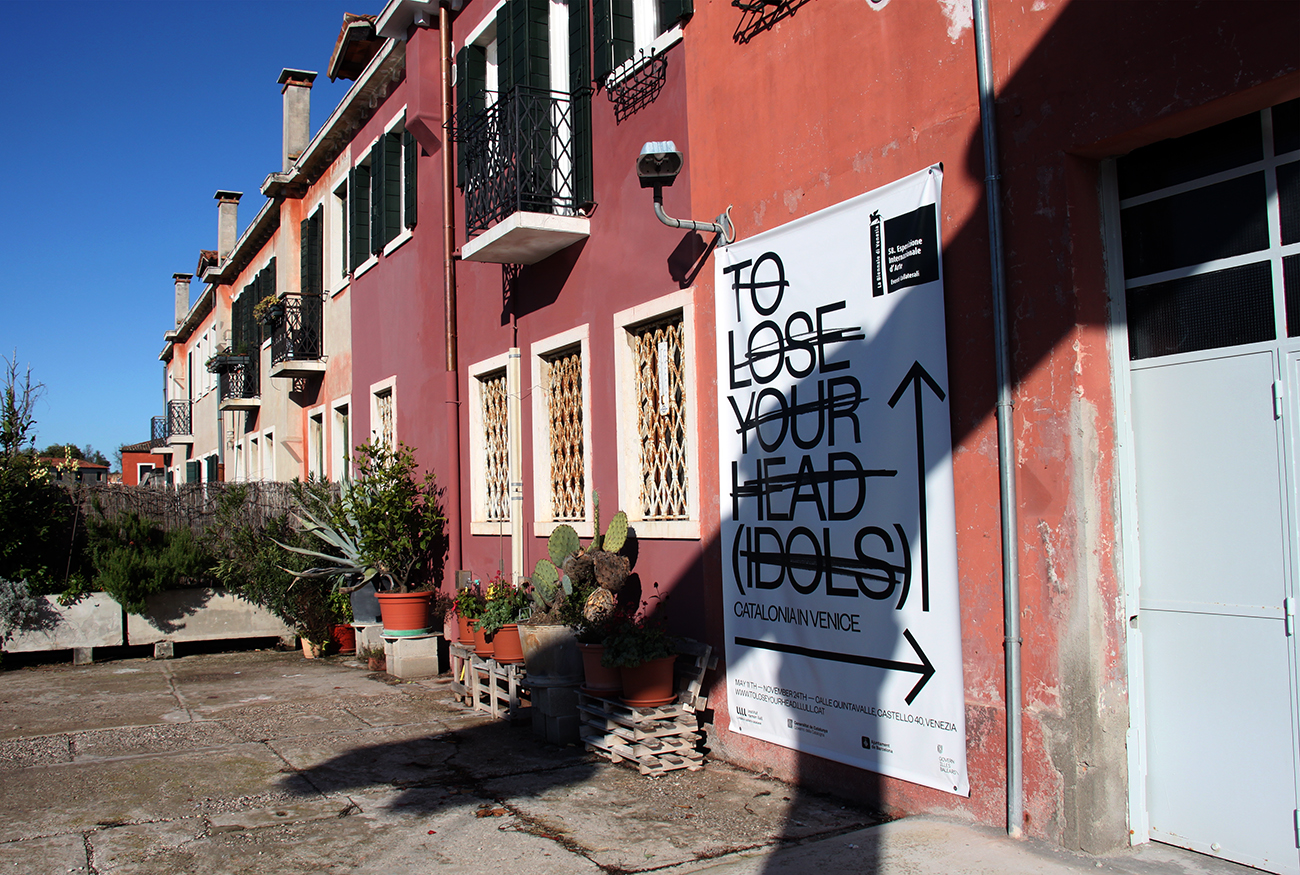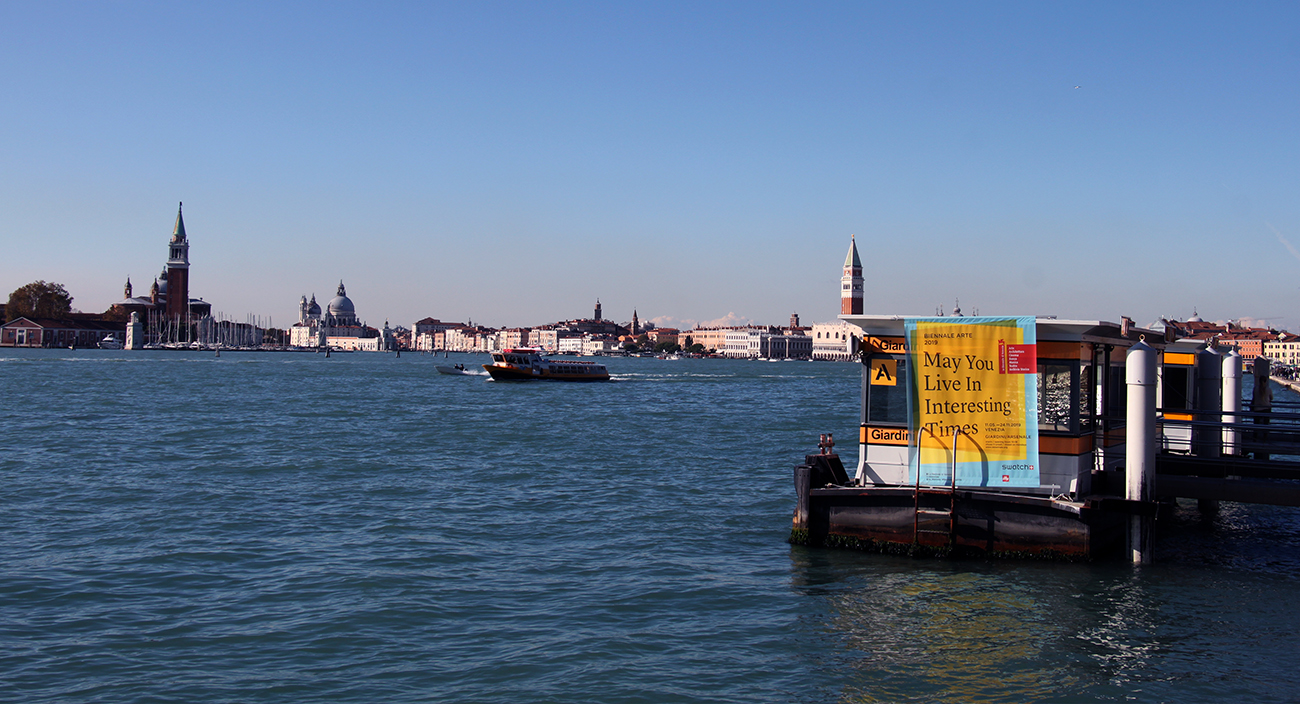 Our visit highlights
In the Giardini we find the mirrored production of the same artists we found in the Arsenale. The works have the characteristic essence of each persona, still they offer a completely different vision.
It's Over (2019) – Antoine Catala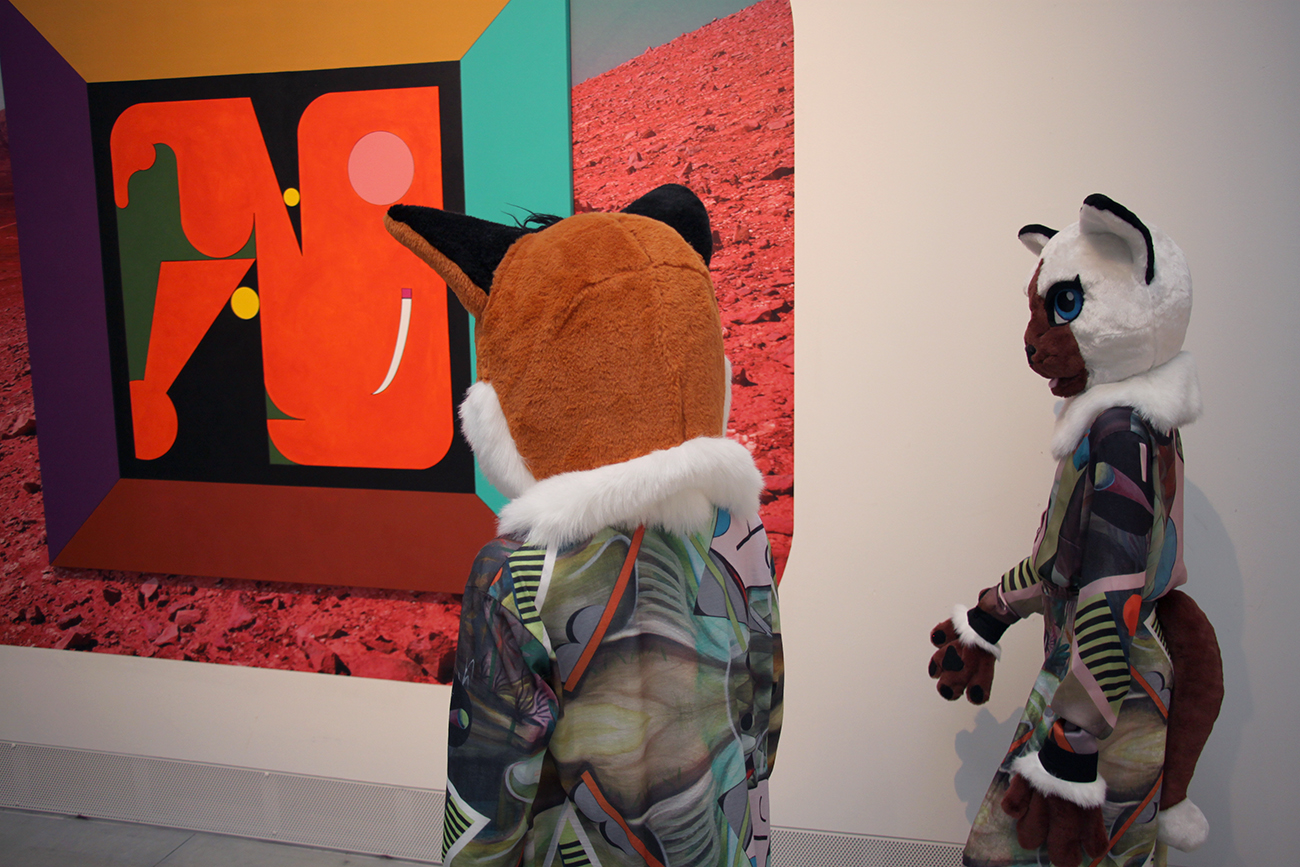 Mural (2019) – Ad Minoliti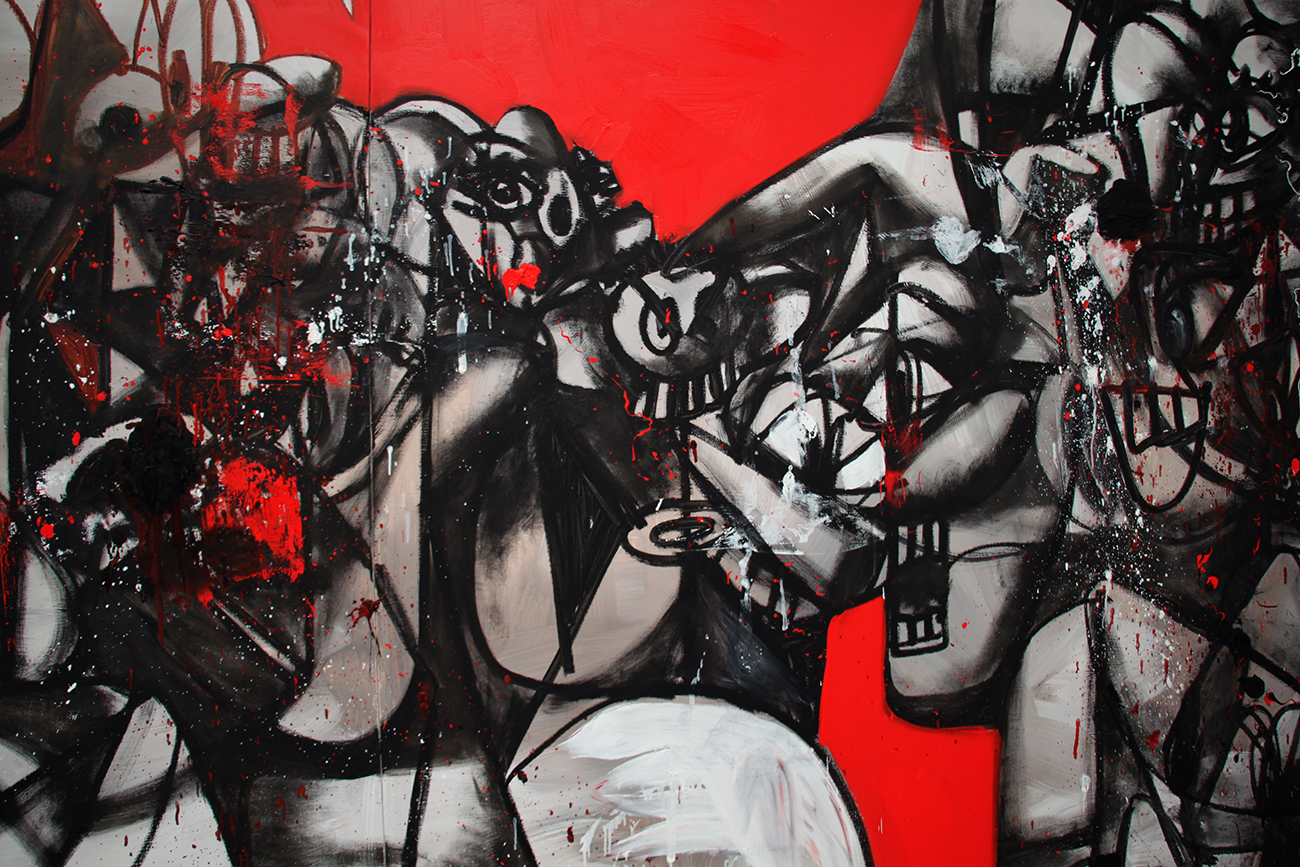 Facebook (2017-2018, detail) – George Condo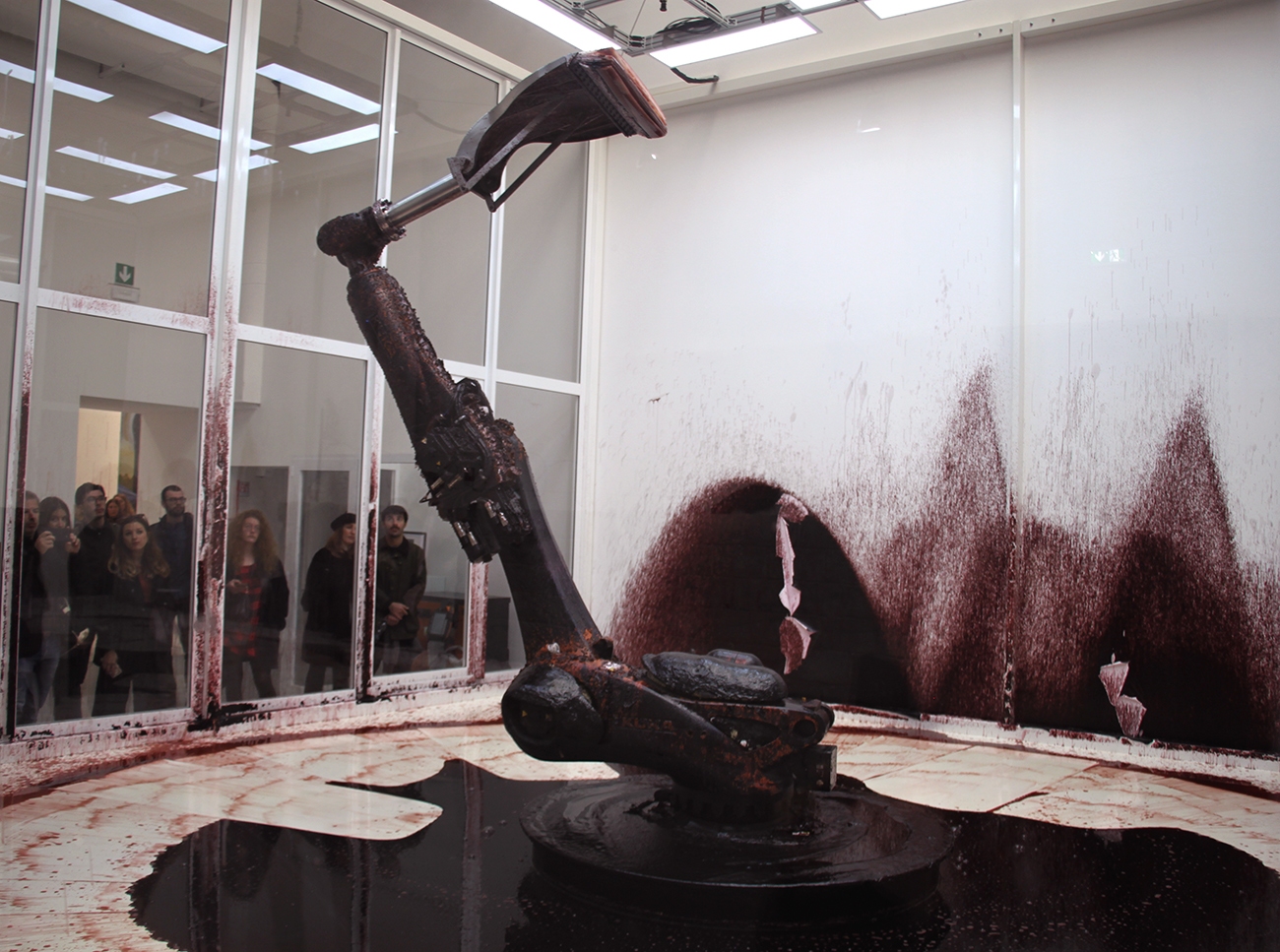 Can't Help Myself (2016) – Sun Yuan and Peng Yu
Yuan and Yu's art confronts spectators with mechanic installations, that despite the industrial feel are full of humanity. In Can't Help Myself, a caged robotic arm behaves like a captured exotic bird for display. The robot has been programmed to ensure that the thick, deep red liquid stays within a predetermined area. However, the blood-like fluid oozes away, constantly triggering the robot's sensors. According to the artists, what the arm tries to contain is perceived as art's essential elusiveness.
Muro Ciudad Juárez (2010) – Teresa Margolles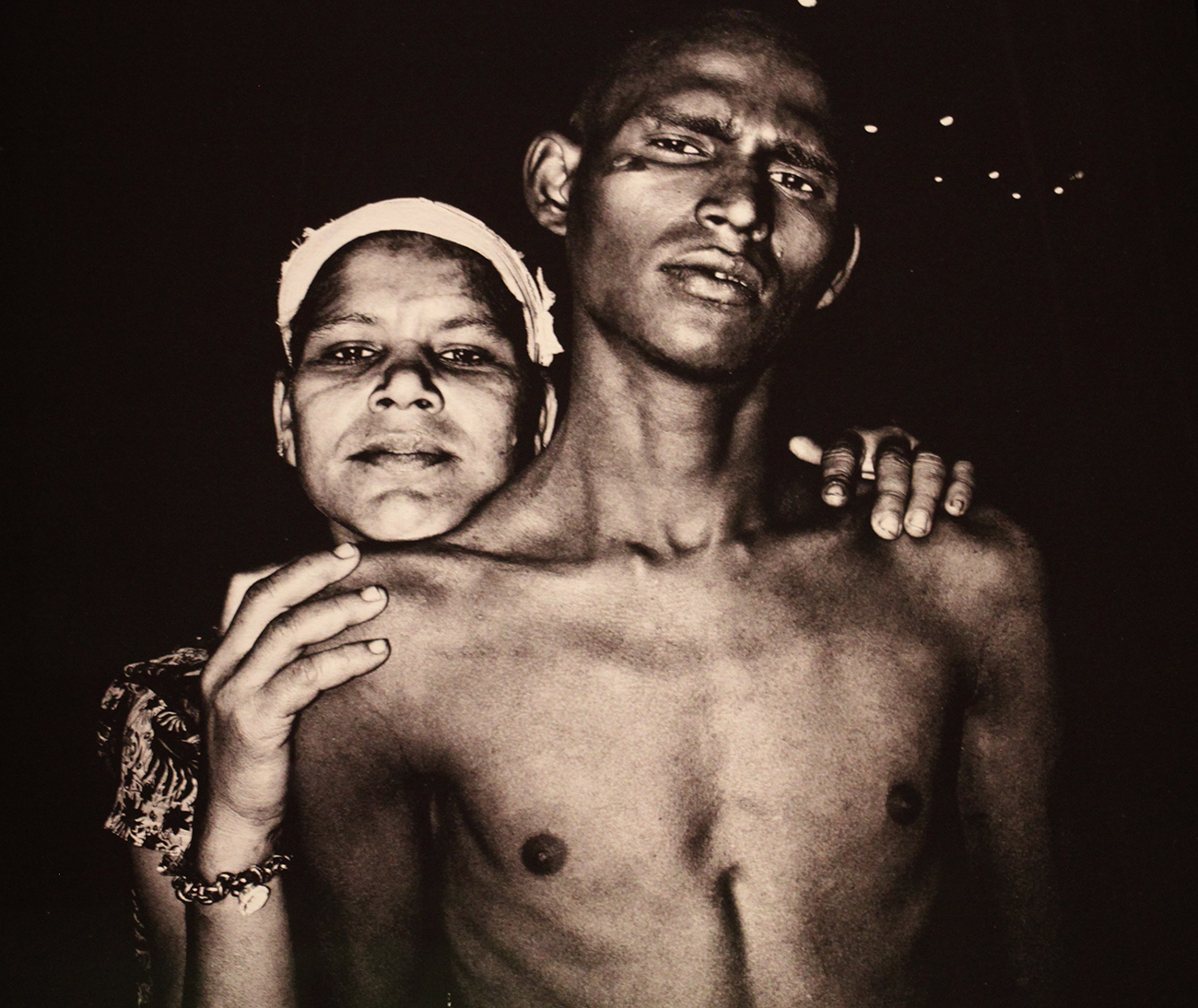 Portrait (detail) – Soham Gupta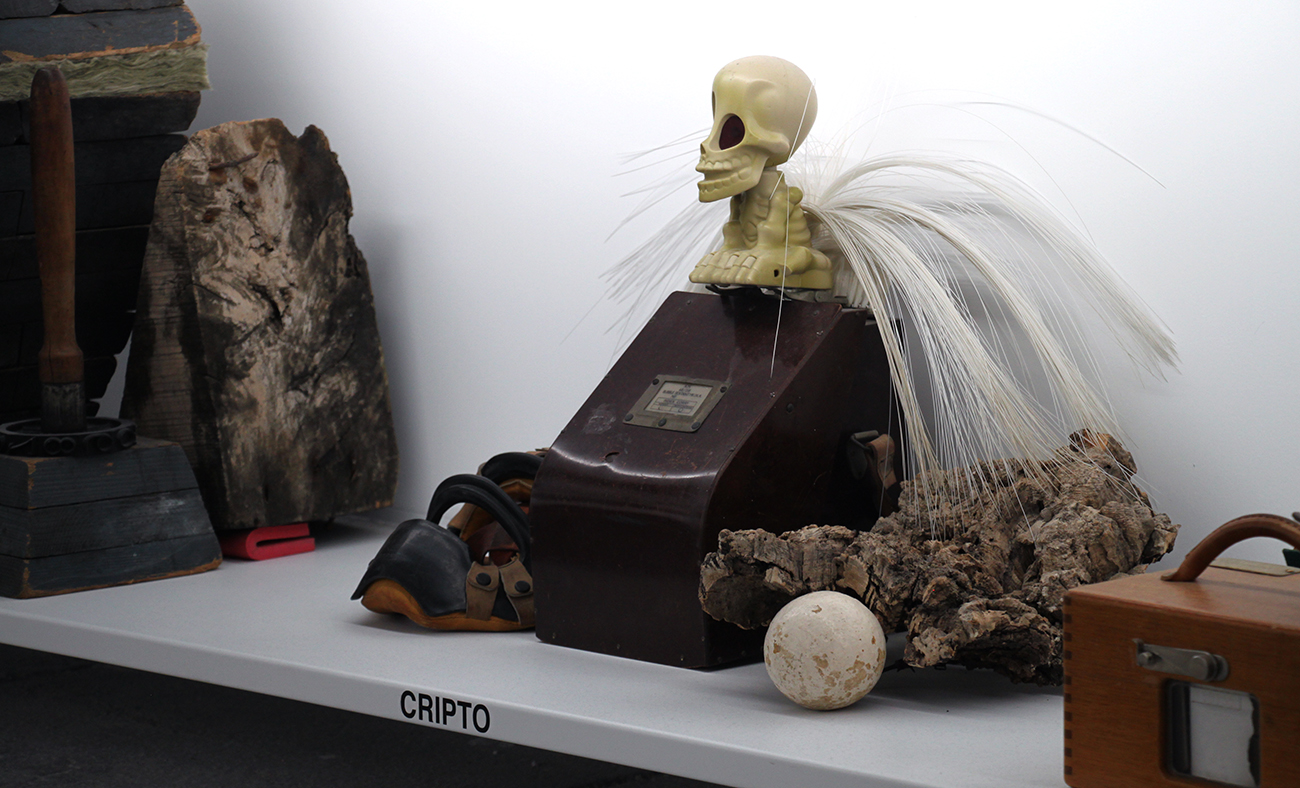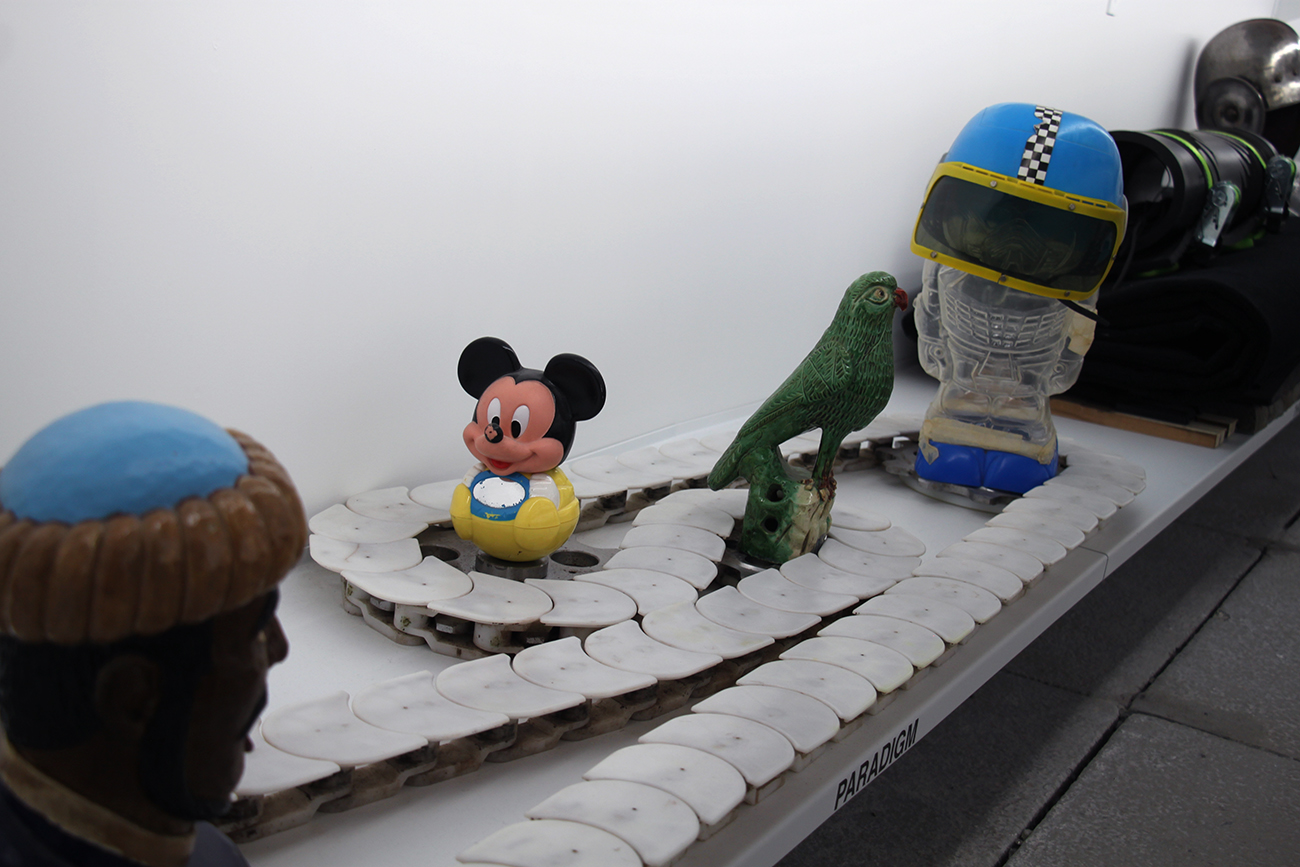 Thinking Head (2019) – Lara Favaretto
Thinking Head included a series of clandestine discussions in which thinkers reflected on a number of key words. The words are linked to a series of objects displayed (above), however their pairing is a work-in-progress that the artist rearranges following the discussions until the end of the exhibition. Favaretto's idea is to generate a dialogue in each viewer, from 'archaic' words and objects to an augmented reality experience. Below is a diagram of the entire project.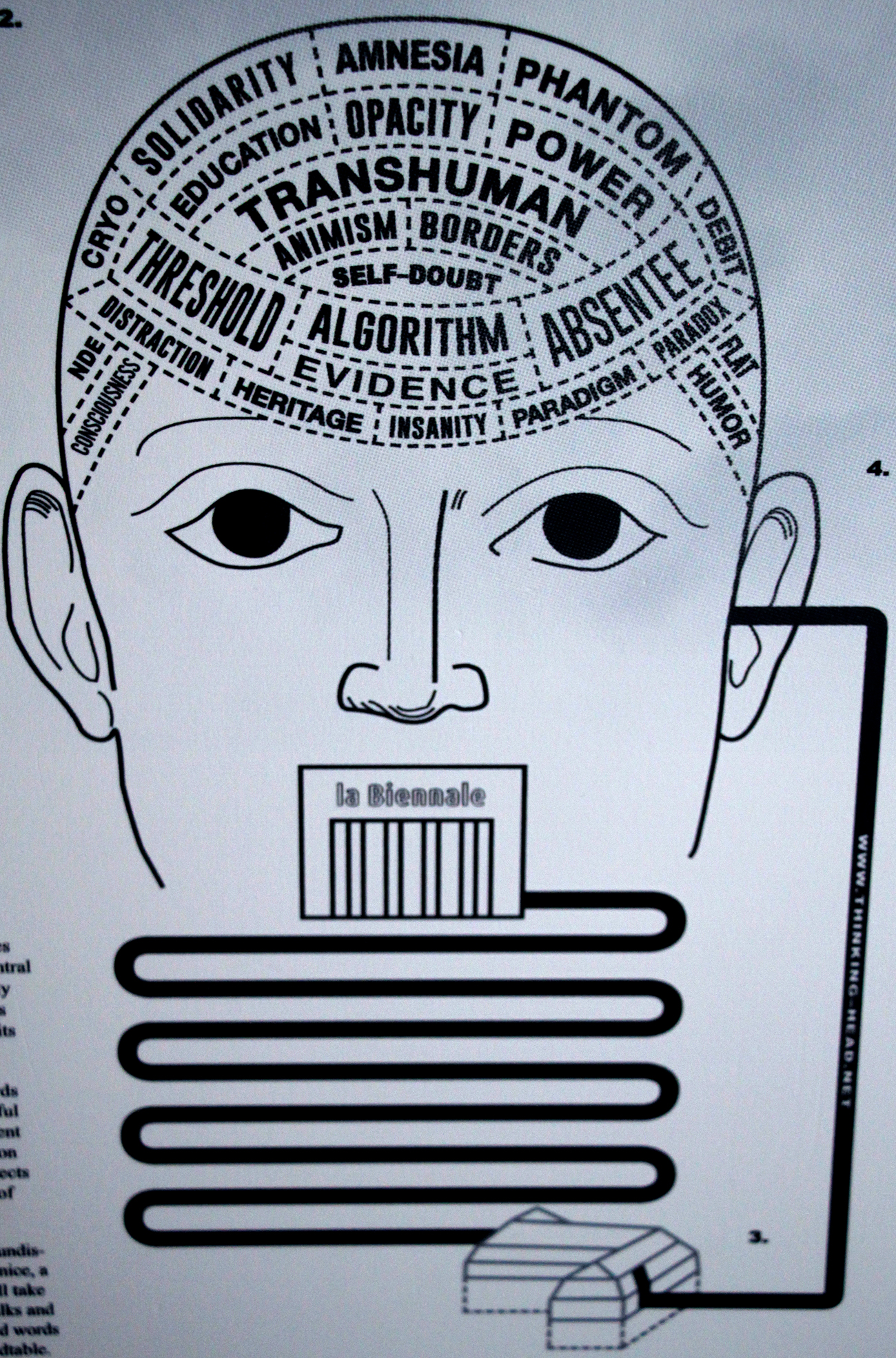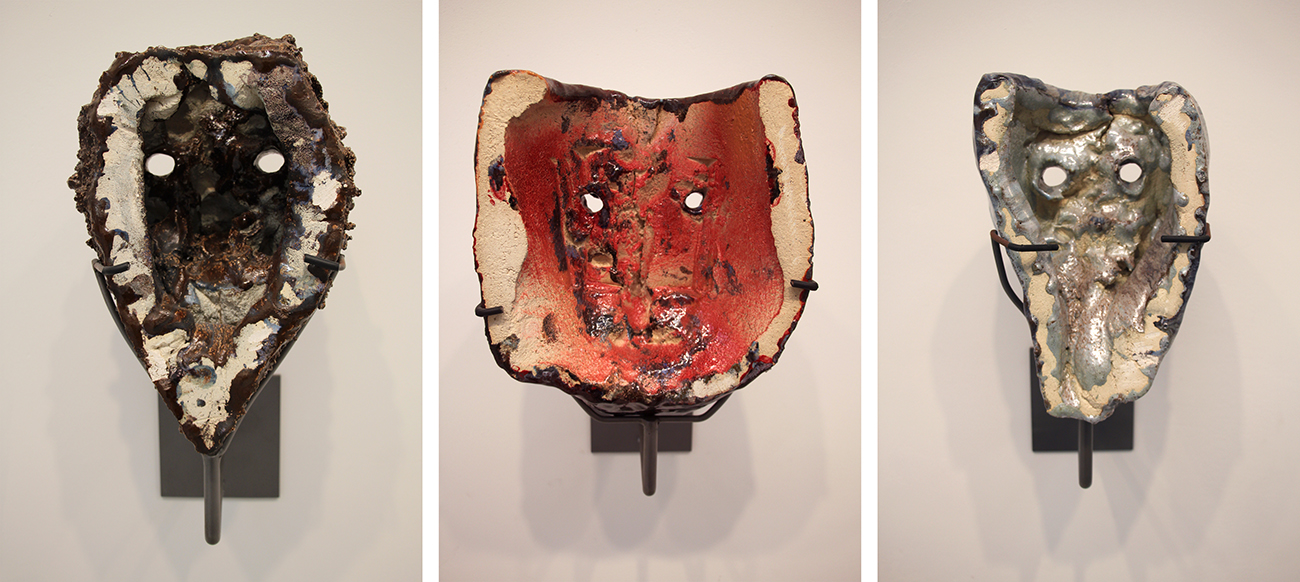 Untitled (2014-2015) – Cameron Jamie
Masks provide shelter, the experience of a 'different' reality and they are widely used in art with diverse meanings. In Jamie's work (above), they are made of hand-mouldered ceramics, with rich layers of colorful glazing. They have been described as the artist's 'primary leitmotif', a device to slip the restraints of public social expectations. The viewer faces the inner part of them, to allow the empathy with the mask wearer. On a different manner, masks are worn in Gill's ongoing photographic project (below). In Acts of Appearance, people from the margins of Indian society are portrayed wearing 'real' masks while performing their daily activities. All work is improvised.
Acts of Appearance (2015 – ongoing) – Gauri Gill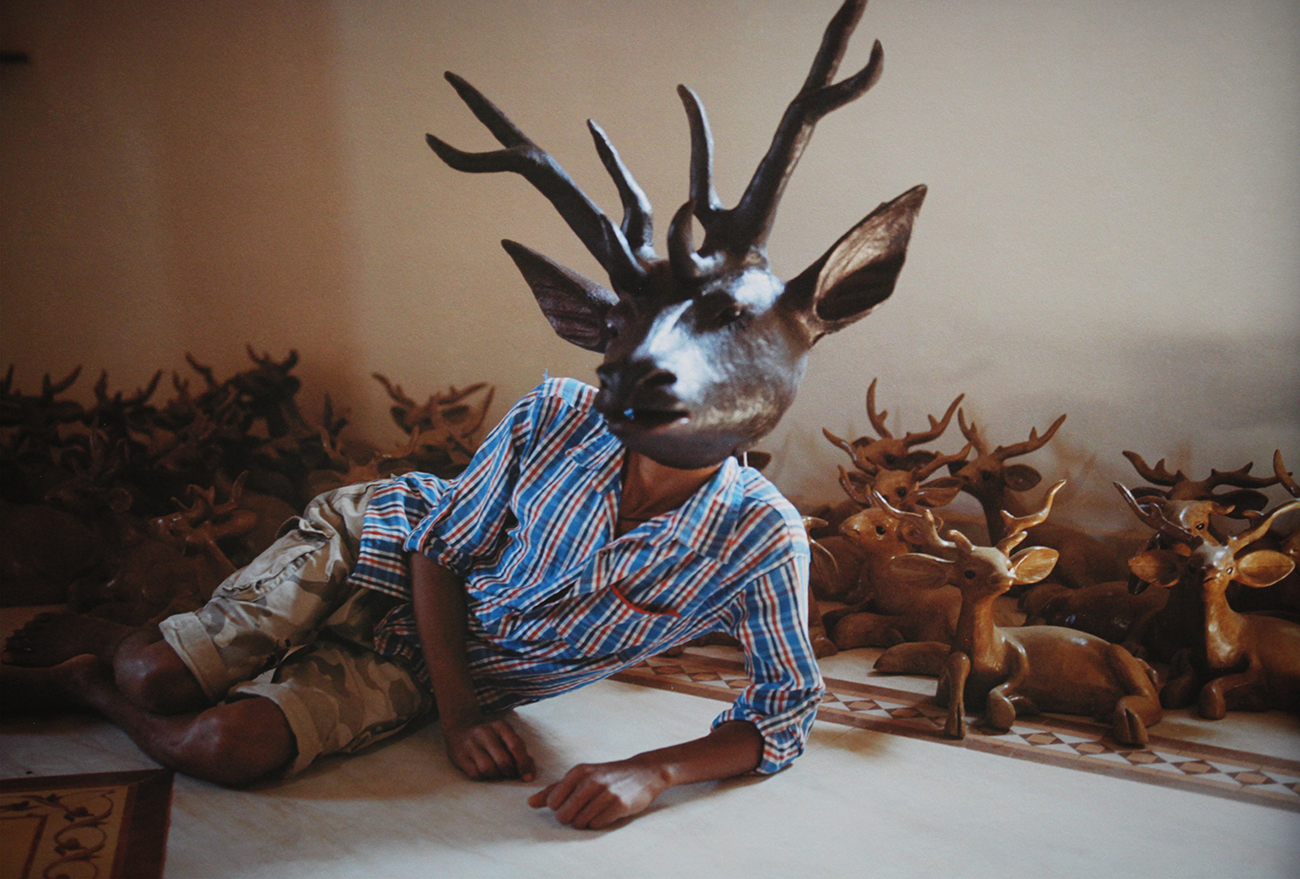 Acts of Appearance (2015 – ongoing) – Gauri Gill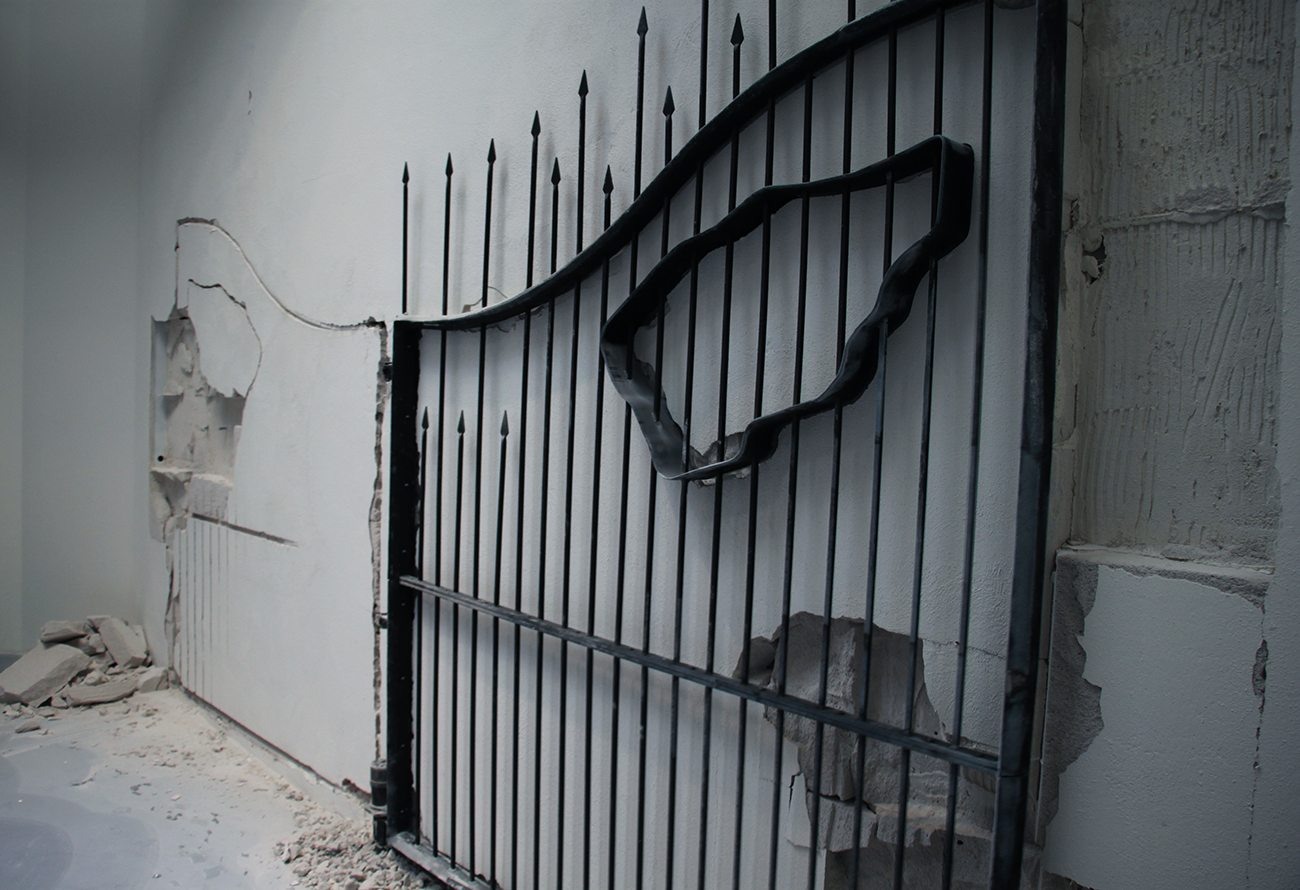 Untitled (2009) – Shilpa Gupta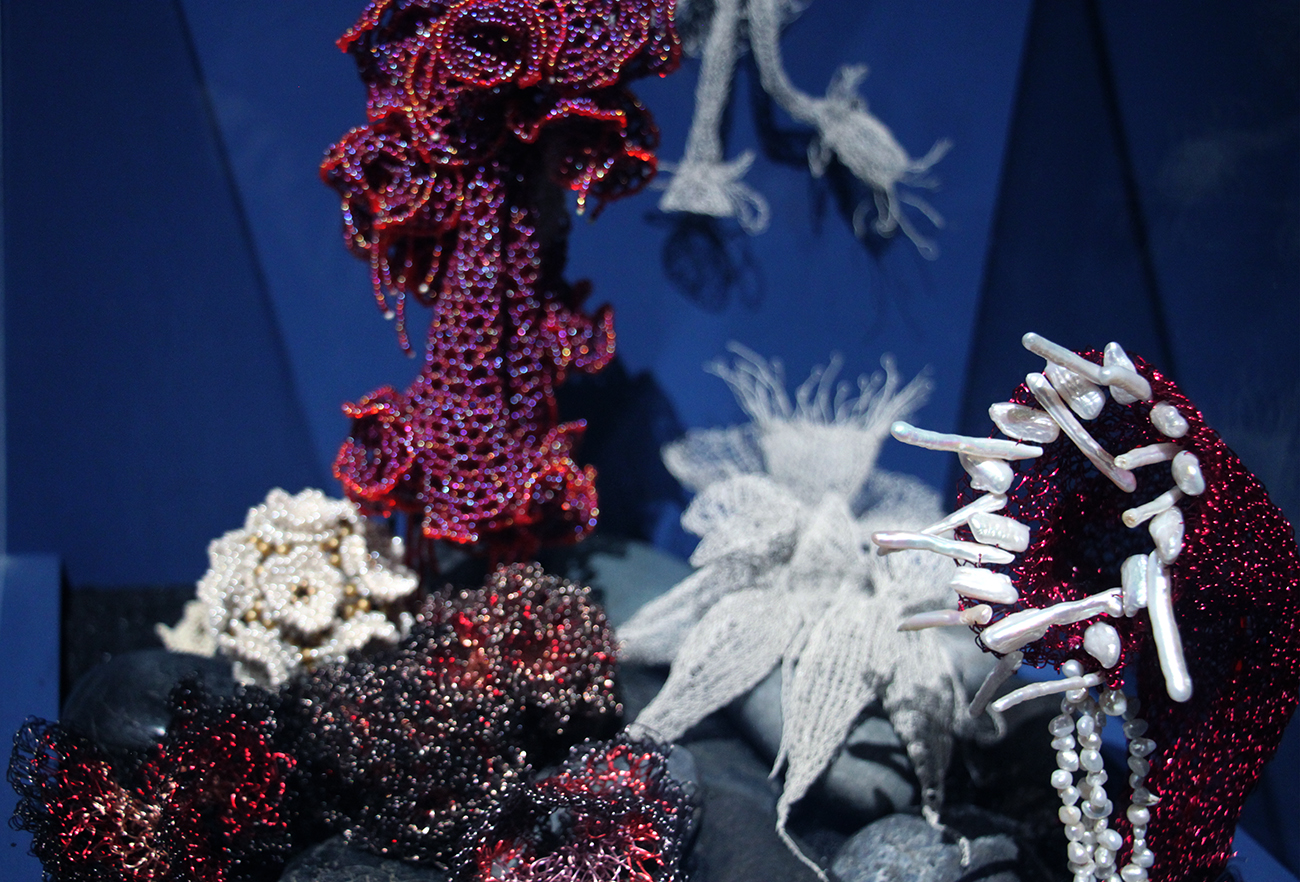 Reefs (detail) – Christine and Margaret Wertheim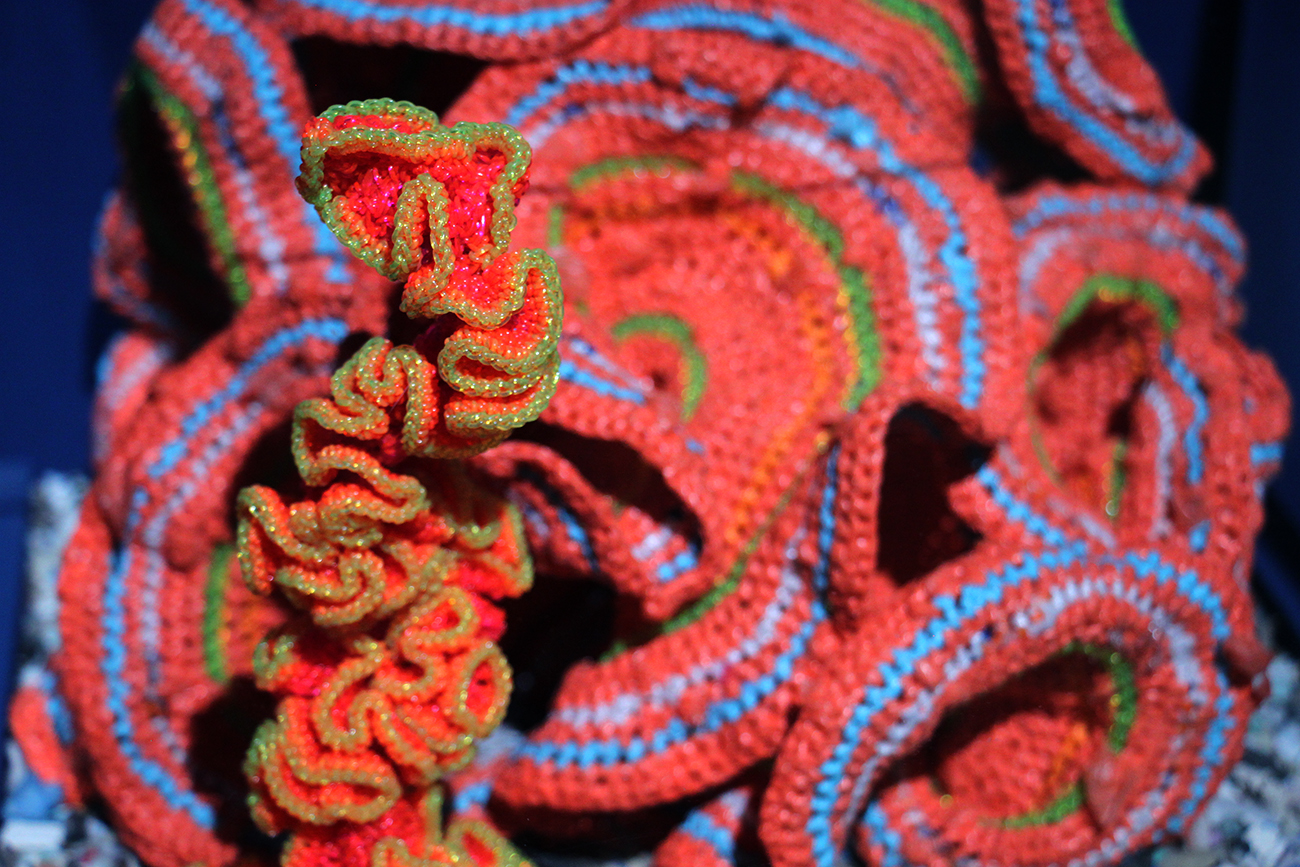 Reefs (detail) – Christine and Margaret Wertheim
Spider/Web Pavilion – Oracle Readings, Weaving Arachnomancy, Synanthropic Futures: At-ten(t)sion to invertebrate rights! In Tomas Saraceno's exhibit for the Giardini we encounter a complex spider web made by different species of arachnids. Full of magic and mistery, the Spider/Web Pavilions are an invitation to attune to our sympoietic futures, the radical interconnectedness of all things, both living and nonliving.
Read more about this thrilling project here.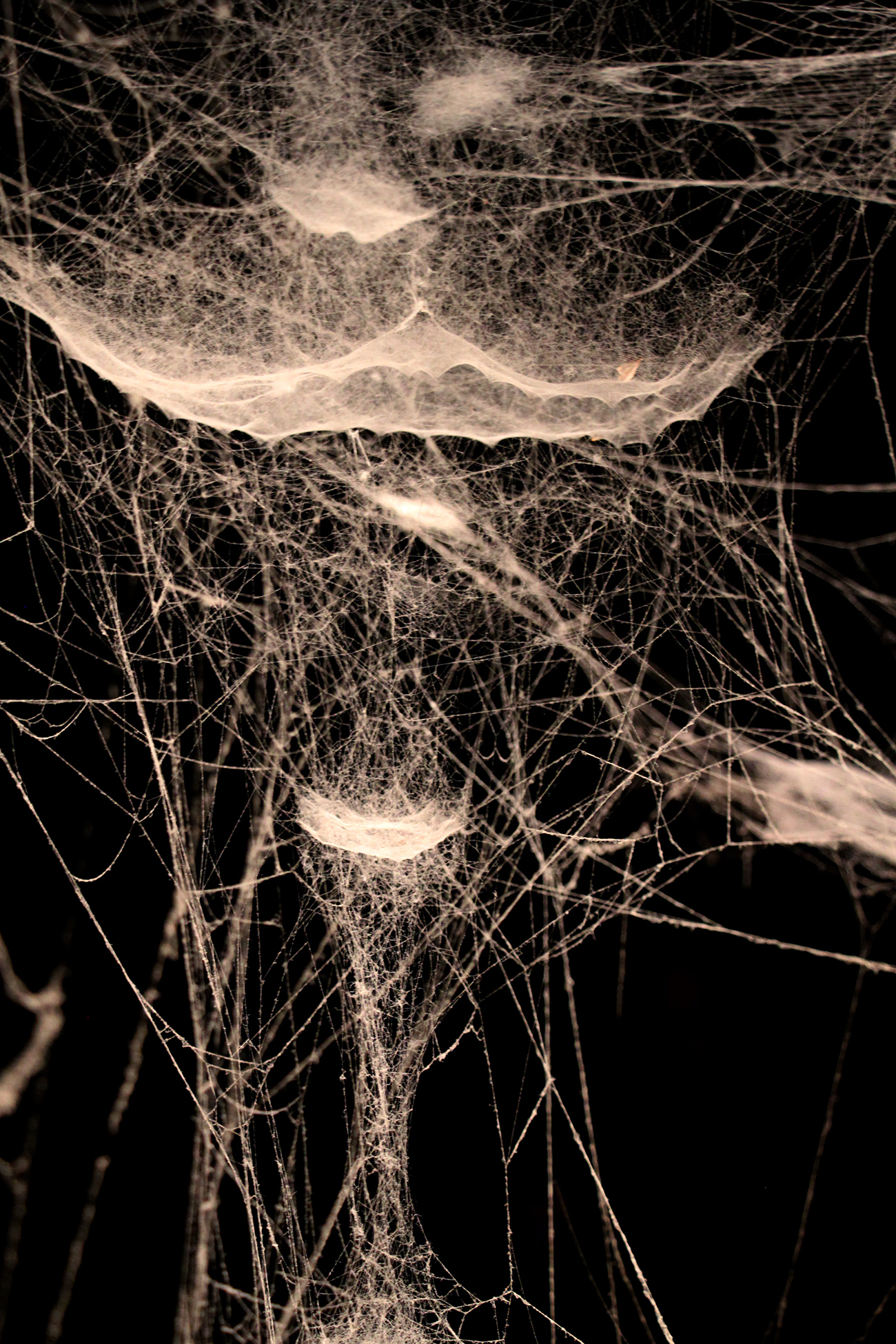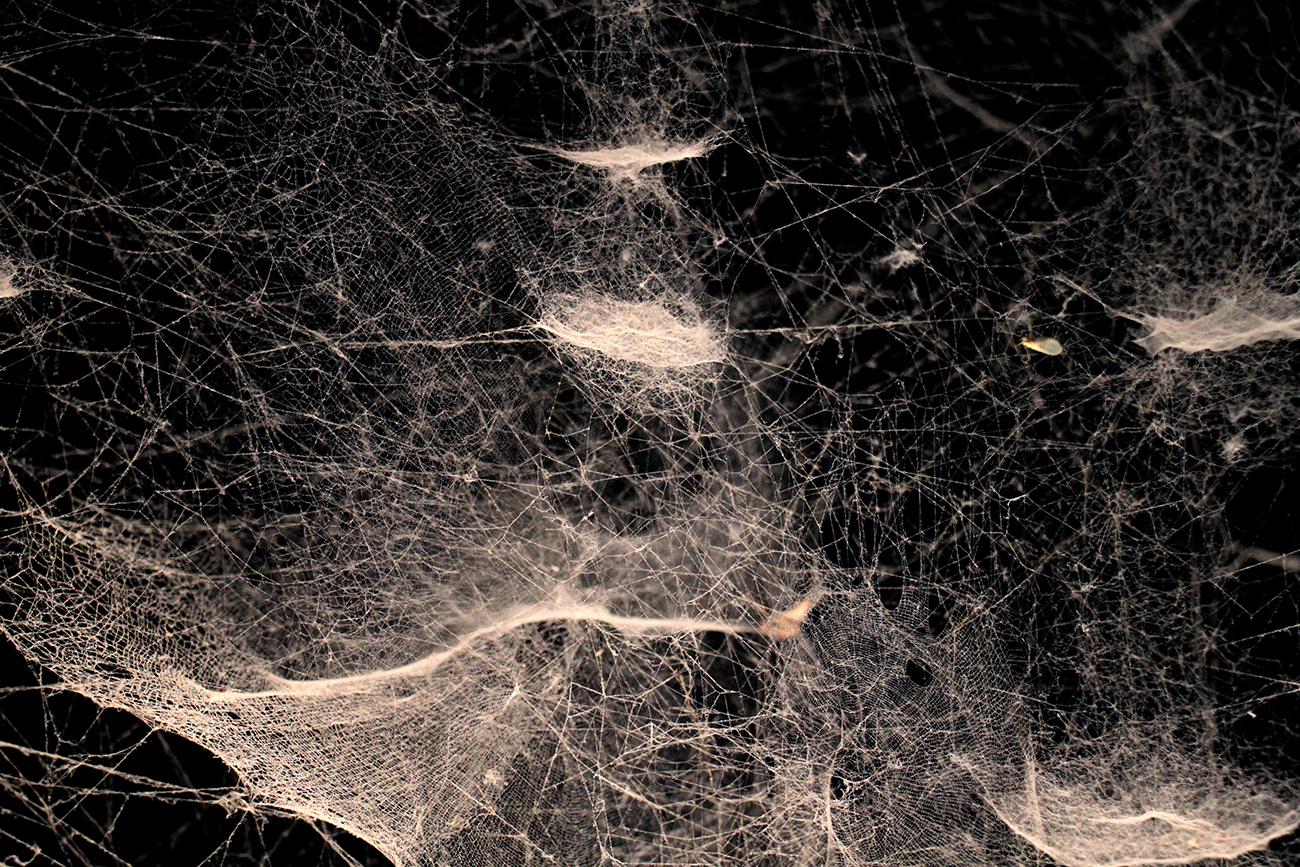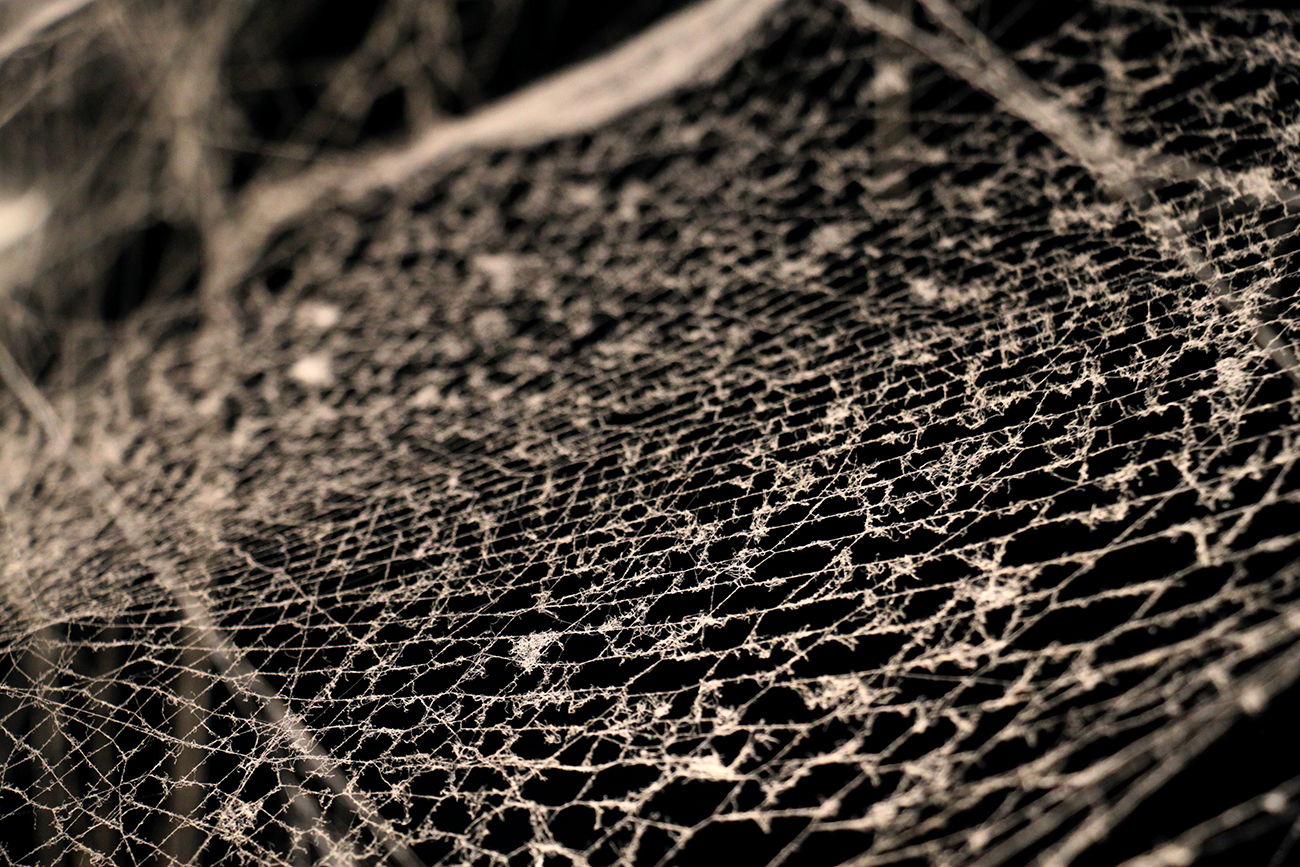 National Pavillions in the Giardini
AUSTRIA – Discordo Ergo Sum by Renate Bertlmann
Discorgo Ergo Sum ("I dissent, therefore I am") is the title of this years's Austrian pavilion. By rephrasing the philosophical principle Cogito Ergo Sum ("I think, therefore I am"), the artist abolishes the supremacy of reason and describes herself within her insurgent worldview. The marked entrance by the sentence "Amo Ergo Sum" ("I love, therefore I am") confronts the installation of knife-roses in the backyard of the building, exploring the dichotomy of our existence.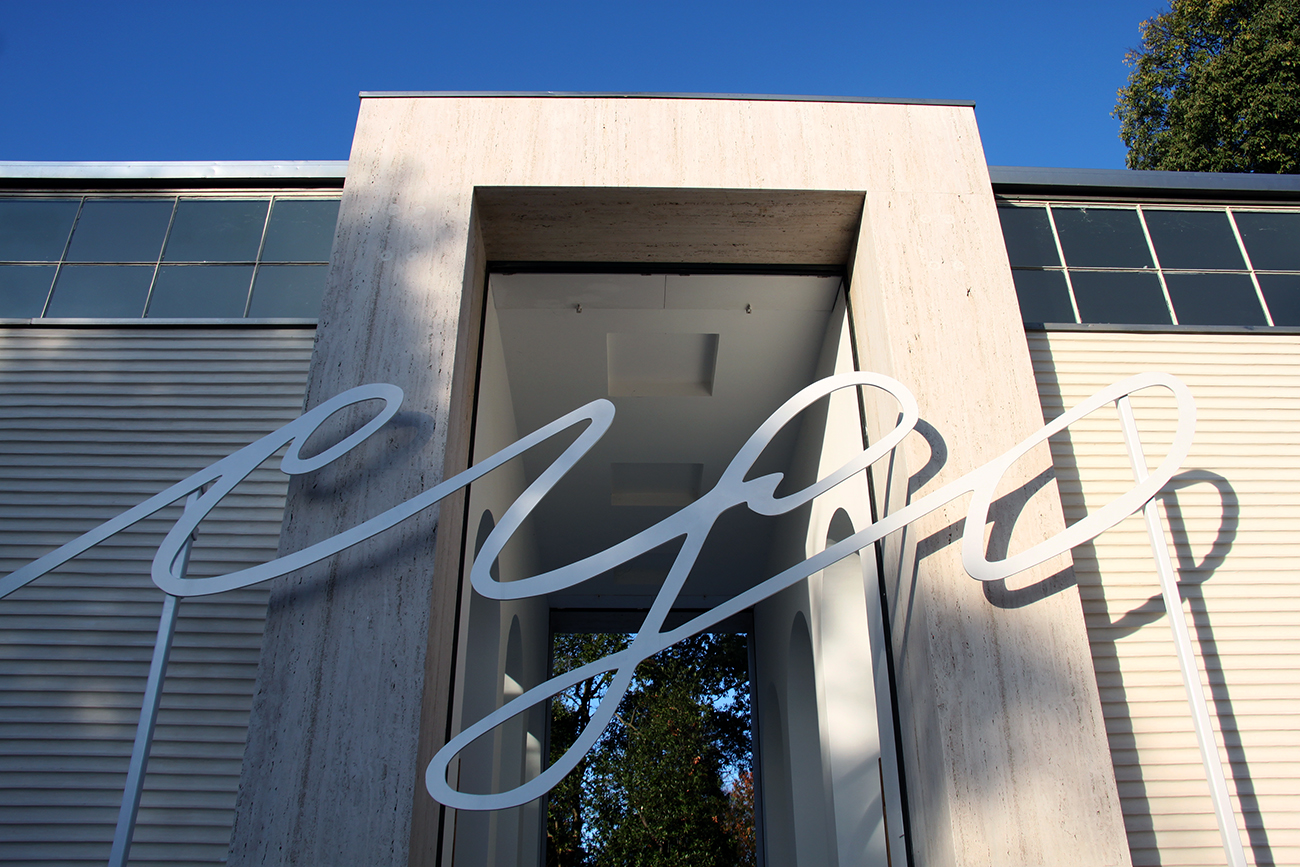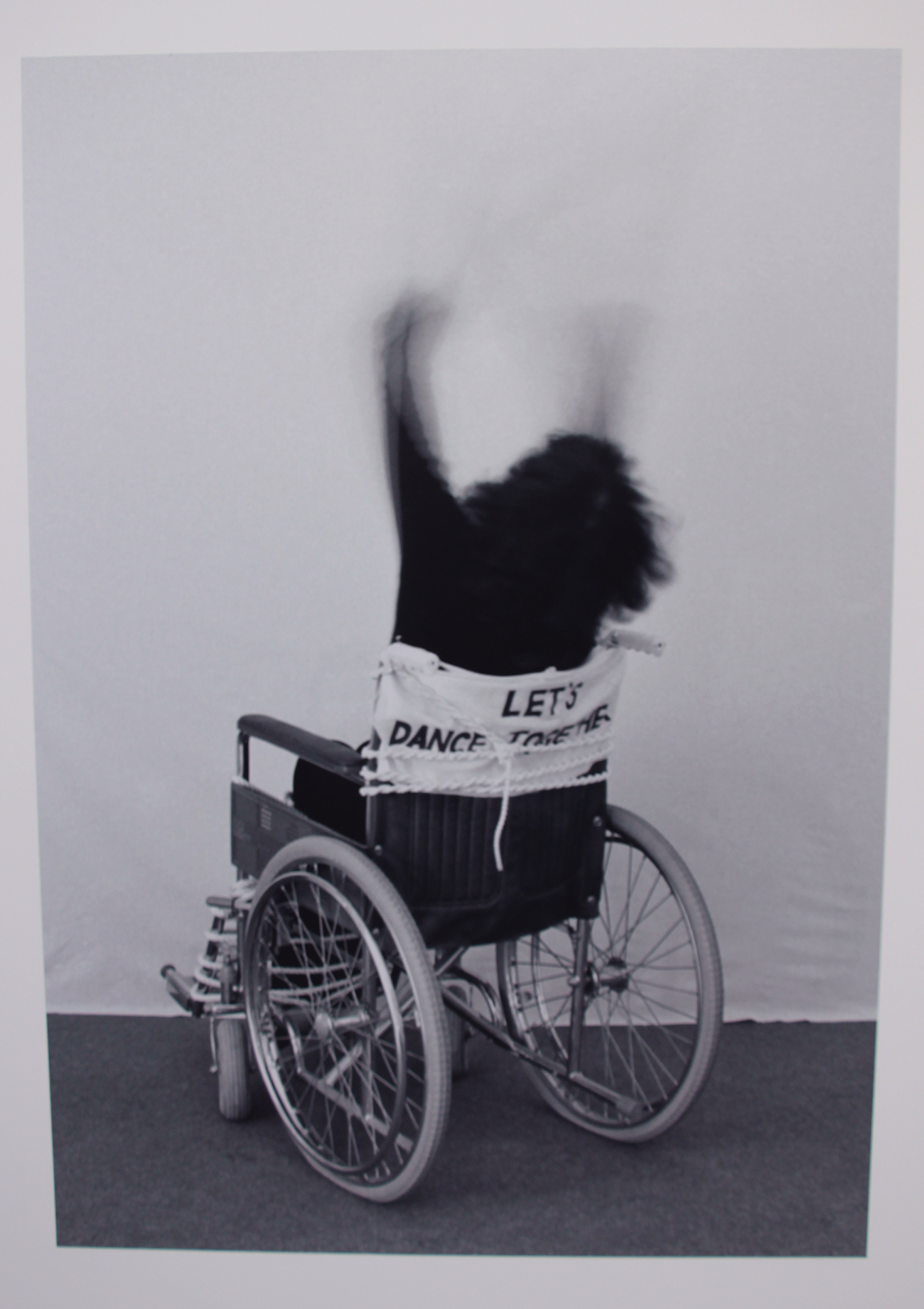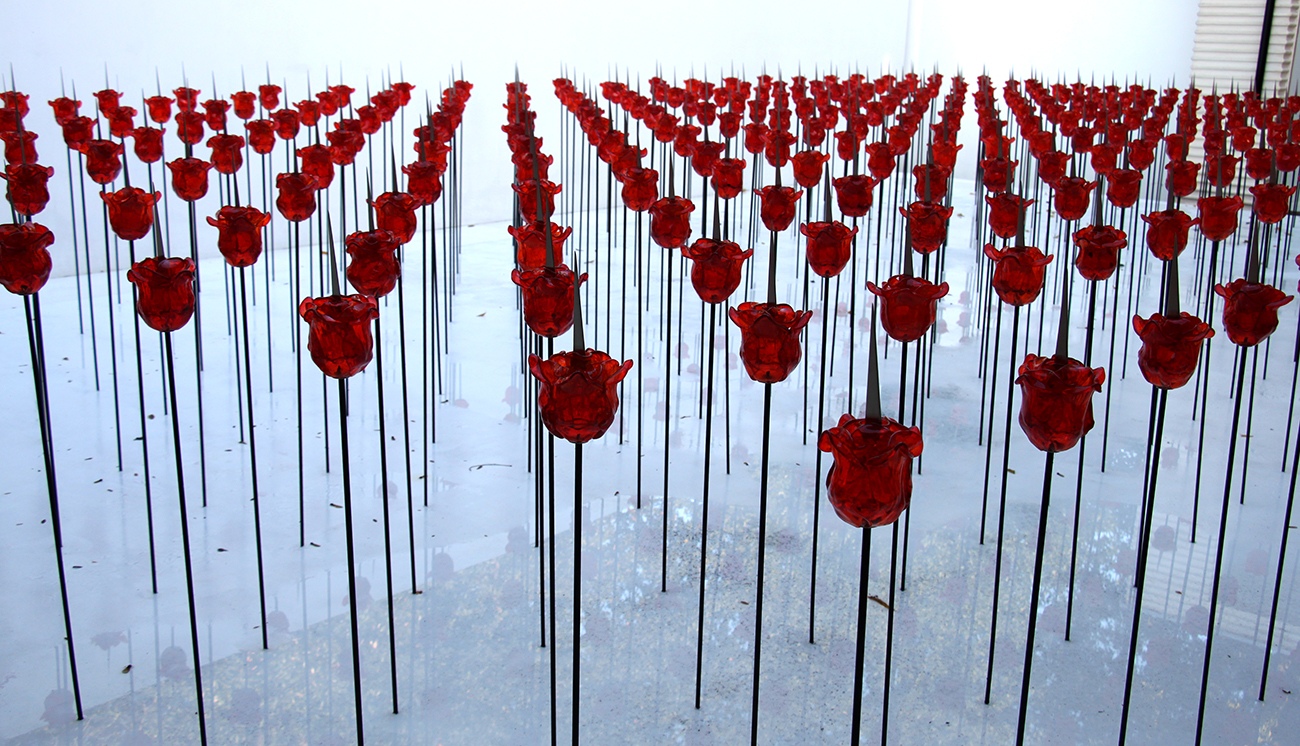 URUGUAY – La Casa Empática by Yamandú Canosa
In Yamandú's project for Uruguay pavilion pieces of art are ordered in a "landscape-territory" or a total landscape, inclusive and empathic. The horizon is our common nexus, exemplifying the beauty of our similarities and differences.

BRAZIL – Swinguerra by Bárbara Wagner & Benjamin de Burca
Swinguerra is a film commissioned for the Pavilion of Brazil for the 58th Venice Biennale. It takes the title from swingueira, a popular dance movement in the Northeast of Brazil, but using the word guerra (war) instead. The film provides a very captivating view of contemporary Brazil culture, giving visibility to the diversity that today's Brazil socio-political situation is trying to silence.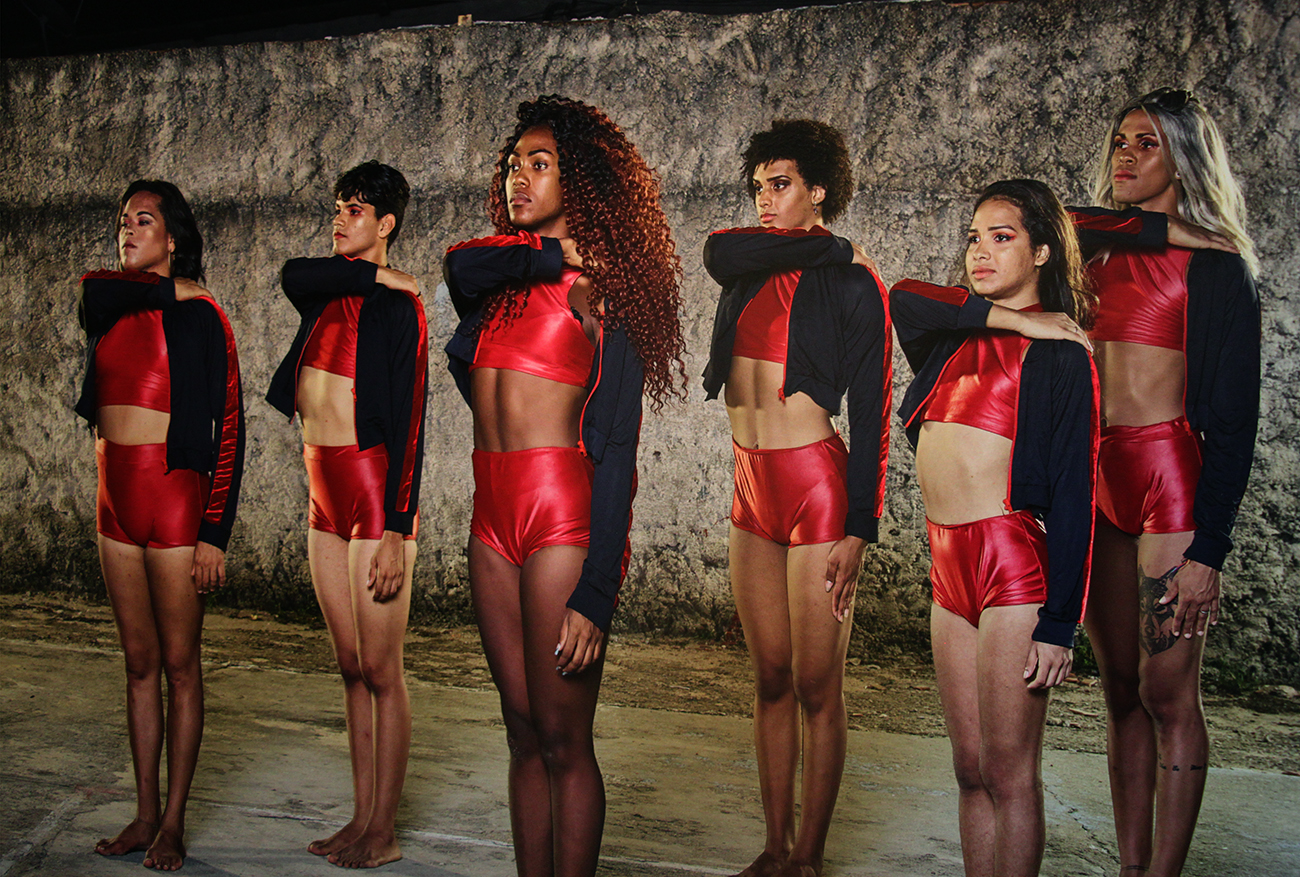 VENEZUELA – Metáfora de las tres ventanas
Venezuela: identidad en tiempo y espacio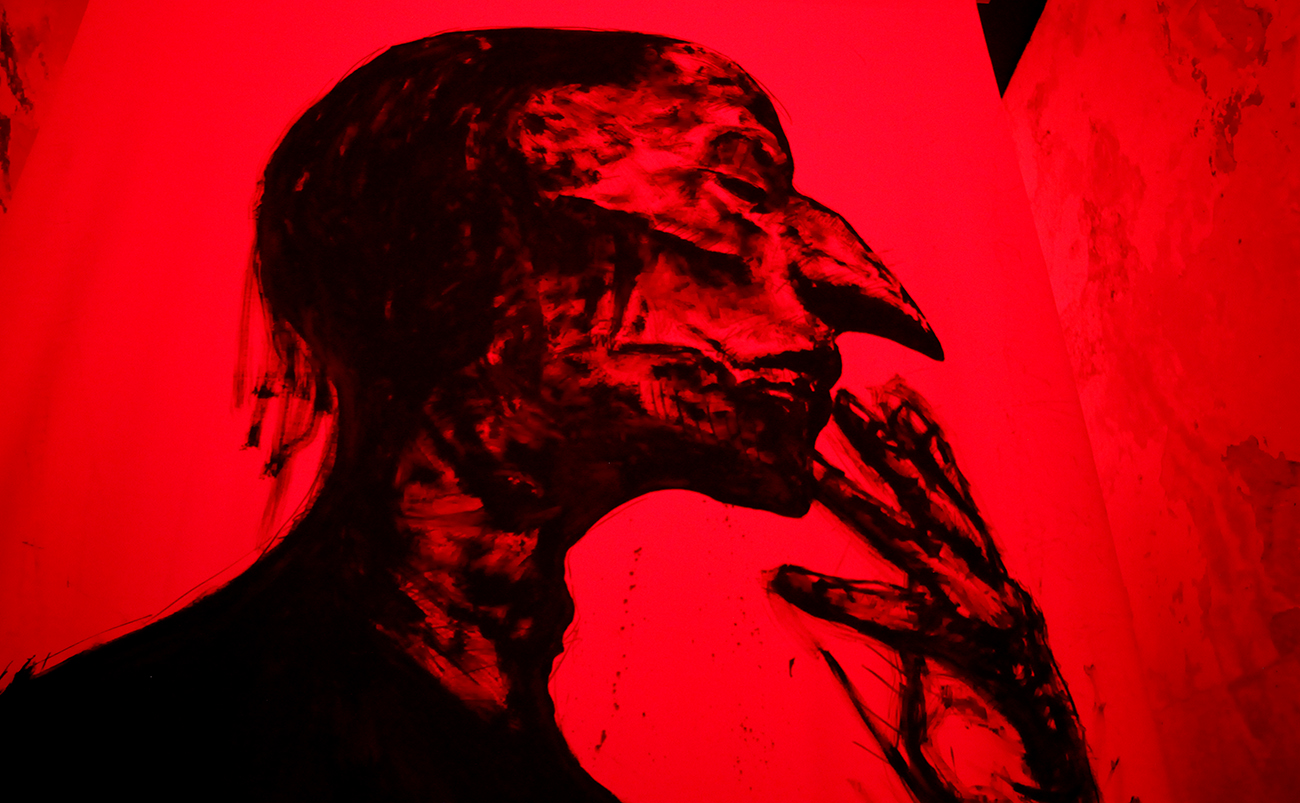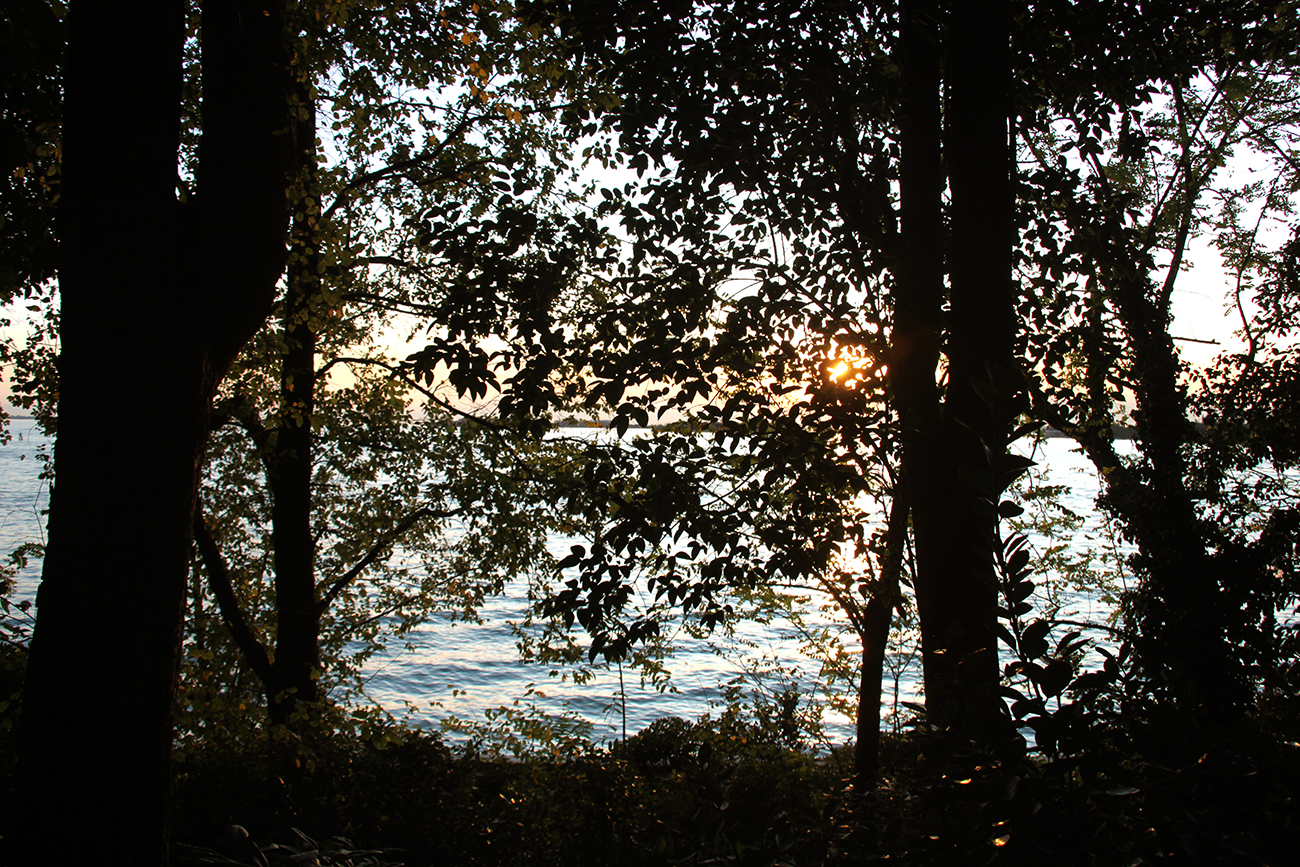 NORDIC COUNTRIES (FINLAND/NORWAY/SWEDEN) – Weather Report, Forecasting Future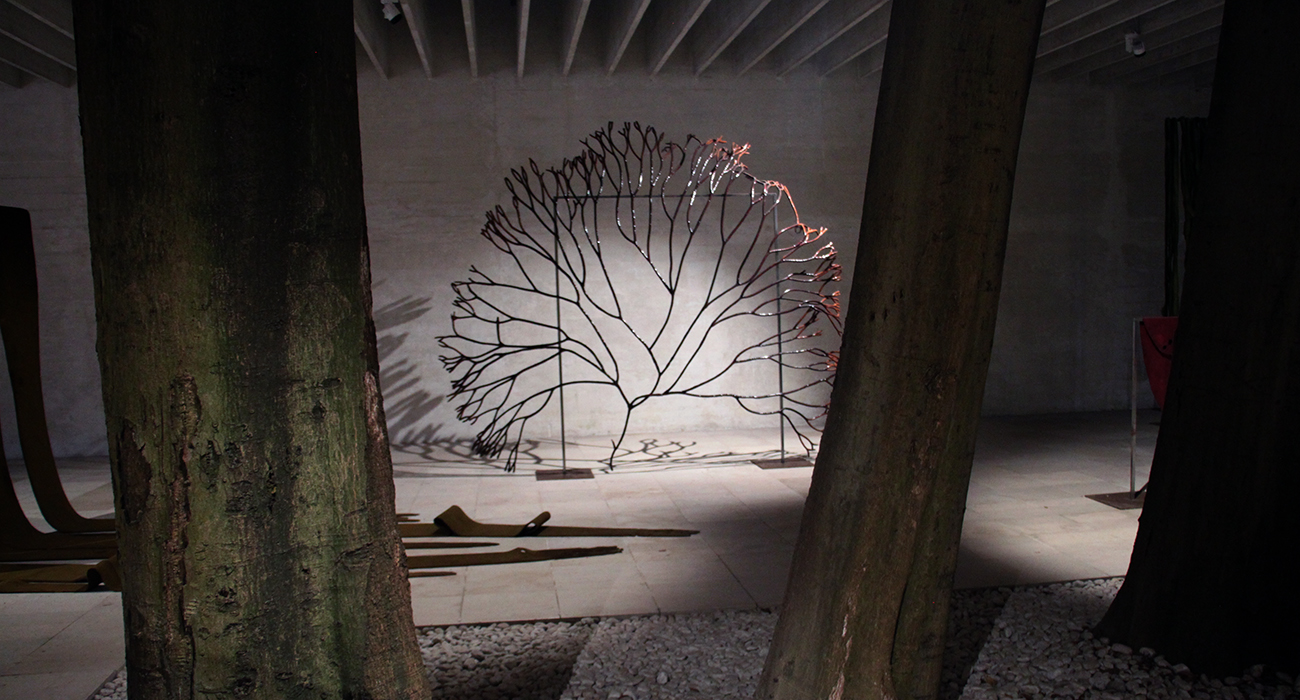 The dusk comes to the Giardini, casting shadows and creating different perspectives. The pavilions, covered in mist and shinning in white light are lighthouses that guide us through this dark and mysterious new scenario.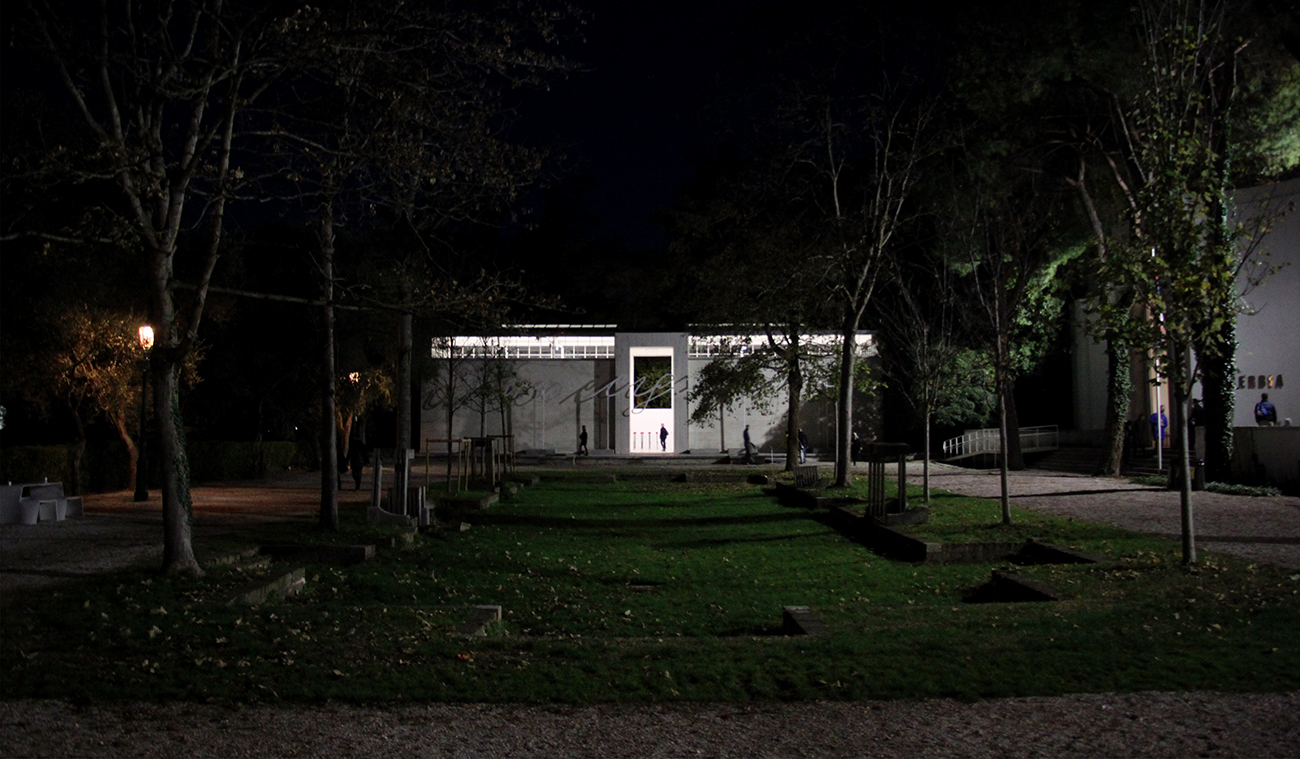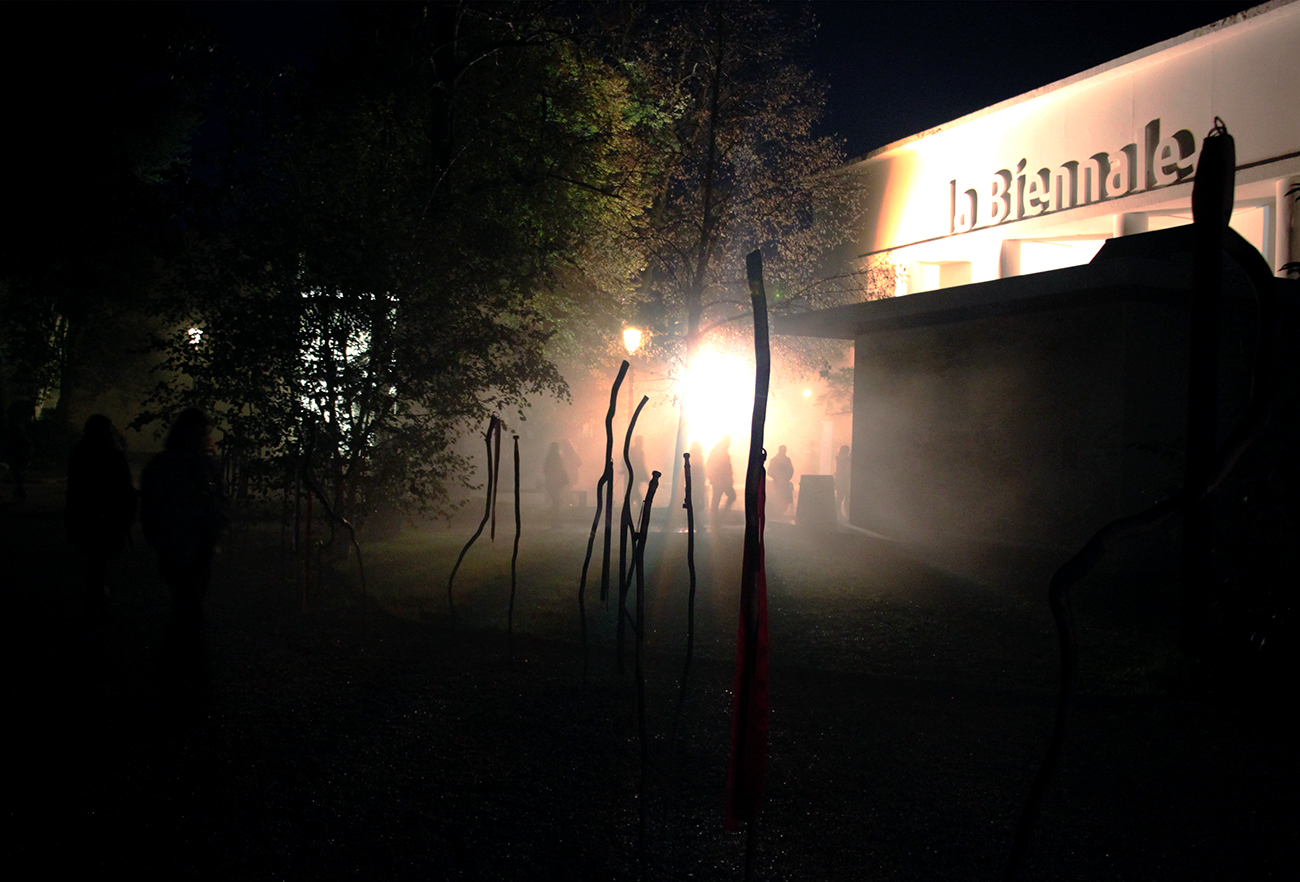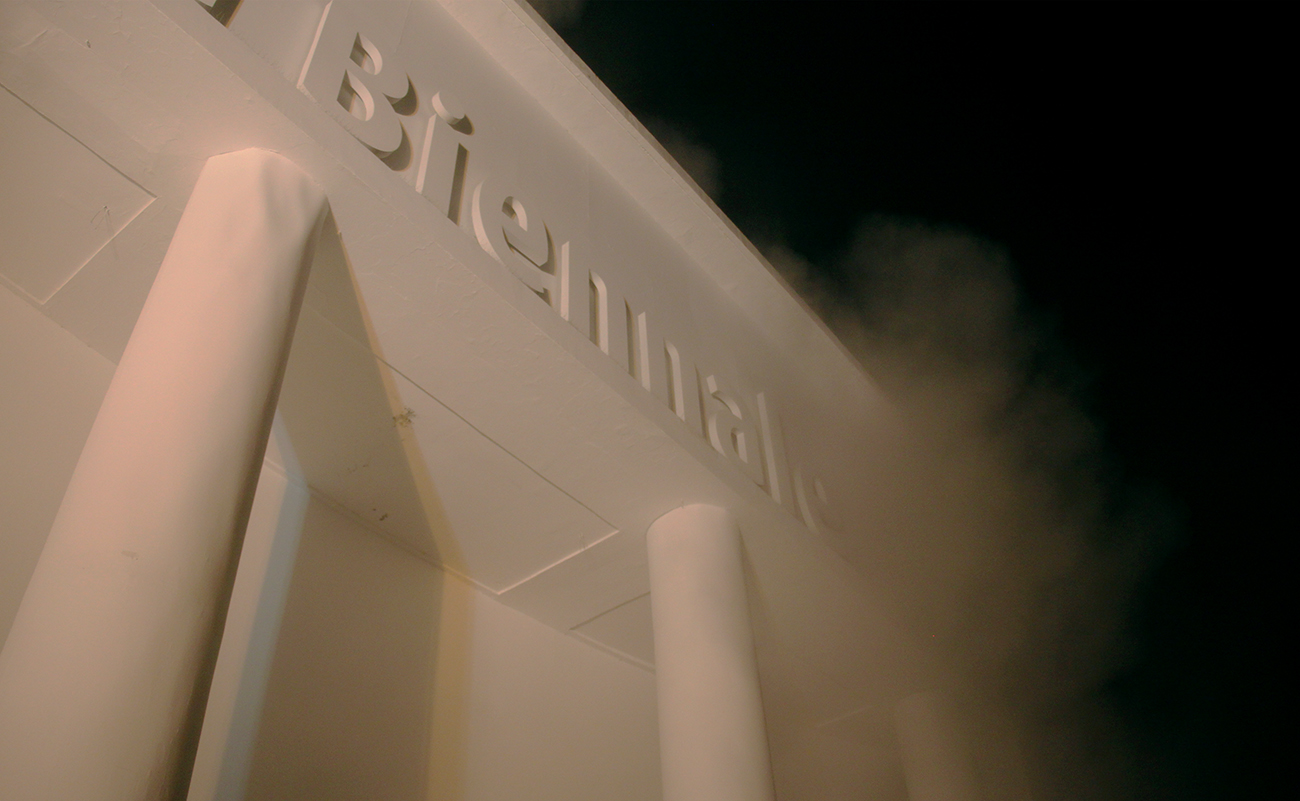 Thinking Head (2019) – Lara Favaretto
One last stroll through the empty streets of this dream city to encapsulate all the feelings from these previous hours full of art.
Cover photo: Michael E. Smith – Untitled (2019). In the Sculpture Garden designed by Carlo Scarpa in 1952 for the Venice Biennale.
Photography by When Audrey Met Darcy
Read the first part of our review in 'May You Live In Interesting Times (I)'

La Biennale Homepage